An island in the Persian Gulf, Abu Dhabi is a fusion of magnificent architecture, stunning beaches, traditional heritage sites, adventures-sports destinations, and upscale shopping malls. It is a perfect mixture of traditional ethos and contemporary culture, and it is a tourist's paradise. There is a piece of knock-knock advice we have for travelers who wish to discover the best of the Middle East – don't return until you have visited all the best places in Abu Dhabi unless you wont have the best experience of your visit. We have mentioned some of the best things to do in Abu Dhabi along with the best places to visit in the Emirate Capital, the prized jewel of the United Arab Emirates.
The scorching desert heat has left Abu Dhabi ready to experience winter. Take advantage of the beautiful weather in the capital by enjoying some activities with family and friends. In the emirates, you can take part in a variety of outdoor activities with your loved ones, from kayaking to desert yoga. Sound exciting? These fun outdoor activities are perfect to enjoy this winter season in Abu Dhabi with your friends and family even on special days like birthdays or anniversaries. You only need to send online anniversary gifts to Abu Dhabi and online gift shops will take care of your surprise.
There are many reasons to visit Abu Dhabi in the winter, including the fact that the weather is extremely pleasant with little rain. Its coastline is dotted with beautiful beaches, and there are many activities to engage in. Another solid reason to visit this majestic city is to experience its Arabian hospitality and intriguing culture. Nature's finest moments are also on display, such as dolphins surfing the ocean waves or turtles burrowing in the sand. We have curated a list of places to visit in Abu Dhabi in 2022, a perfect help for a wonderful vacation.
But, before digging in the best locations for holiday in Abu Dhabi, it is mandatory to have an idea about the climate in Abu Dhabi. So, let get to it first –
Climate in Abu Dhabi, UAE
The winter months in Abu Dhabi are usually dry with very little rain. Temperatures can reach 43°C (109°F) during the hottest month (August). As the weather is pleasant in the winter, this is a great time to visit the city, as you can enjoy all the outdoor activities. Abu Dhabi's winter temperatures are usually between 25°C and 30°C (77°F – 86°F).
So, now, let get to the list of places to visit In Abu Dhabi in 2022 –
1. Yas Mall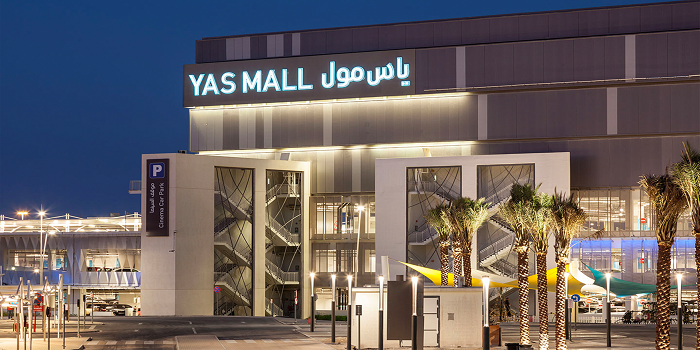 With the man-made Yas Island in Abu Dhabi, your dream of shopping, leisure, and entertainment is a reality.
Location: Yas Island, Abu Dhabi
Timings: 10 am to 12 am
Key attractions: Yas Waterworld, Yas Mall, Yas Marina Circuit, and Yas Beach are among the attractions of this vibrant city.
Things to do: Take a mangrove tour at Yas Beach, Rush Rider at Waterworld,try Bubble's Barrel slide, relax at Yas Marina Circuit, and don't forget to check out Ikea in Yas Mall for some awesome items.
2. Al Lulu Island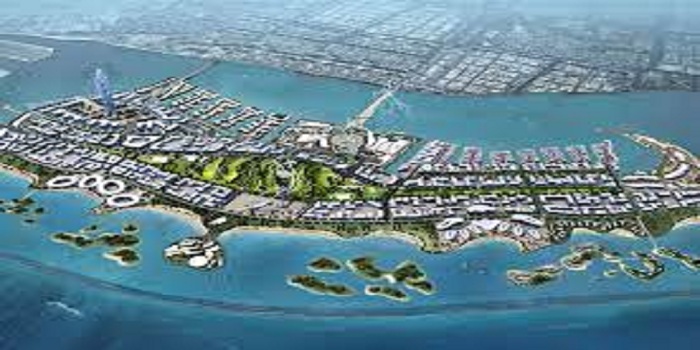 A hub of exciting activities, Al Lulu Island is one of Abu Dhabi's most popular tourist
destinations. Its fantastic beaches, blue water, beach activities, and watersports contribute to Al Lulu Island's popularity among Abu Dhabi tourists. The island extends from Abu Dhabi Breakwater to Zayed Sea Port.
Location: Zayed Sea Port, Abu Dhabi
Timings: 10.30am-11pm
Key Attractions: There are beach shops and comfortable shacks, as well as a lively beach atmosphere.
Things to do: Discover the splendid malls, the Sheikh Zayed Cricket Stadium, and St Joseph's Catholic Church.
3. Abu Dhabi Mall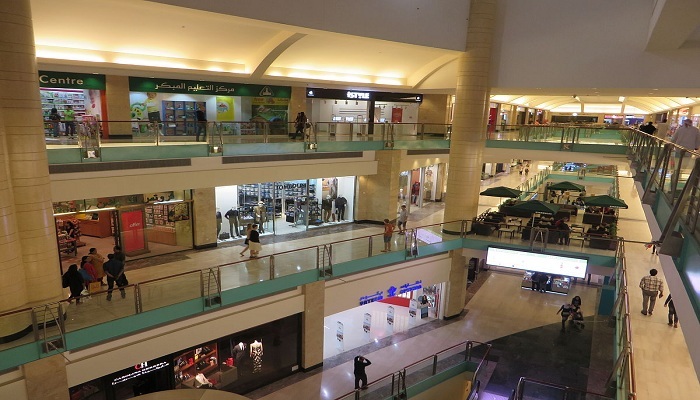 Abu Dhabi mall is one of the oldest shopping centers in the UAE, situated right next to Beach Rotana Hotel. A popular tourist destination in Abu Dhabi, the vast retail area housing all Global brand outlets is very popular among tourists and locals alike.
Location: Near Beach Rotana Hotel, Abu Dhabi
Timings: 10am – 11 pm
Key attractions: Affordable fashion brands that provide accessories, electronics, home décor, and beauty products.
Things to do: Athena, Café Nero, and Cold Stone Creamery are other places where you can indulge in retail therapy.
4. Sheikh Zayed Grand Mosque Centre
One of Abu Dhabi's top tourist attractions is the Sheikh Zayed Grand Mosque Center, with its elegant architecture. In memory of late Sheikh Zayed bin Sultan, the Sheikh Zayed Grand Mosque Centre was built. It's on every list of the best places to visit in Abu Dhabi city not only because it's a religious site, but also because it's a cultural and educational hub as well.
Location: Sheikh Rashid Bin Saeed St, Abu Dhabi, United Arab Emirates
Timings: 9am – 10 pm
Key attractions: Abu Dhabi's luxurious architecture combined with the exquisite design and pattern of the mosque makes it one of those tourist attractions that are very popular with foreigners.
Things to do: Witness the heavenly sunset, magnificent library, and beautiful grounds.
5. Qasr Al-Hosn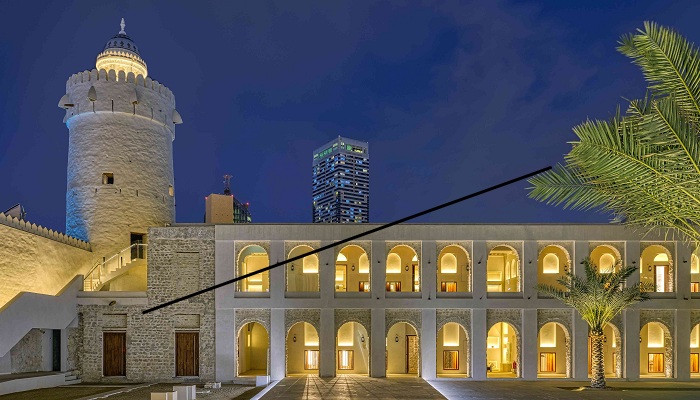 Qasr al Hosn is the first permanent structure and ancient home of the Al Nahyan family. In addition to being Abu Dhabi's first permanent building, Qasr al-Hosn is also the ancient residence of the Al Nahyan family, the ruling family of the Emirate. Qasr al Hosn Center exhibits a detailed account of the city and its residents. This is one of the most fascinating attractions in Abu Dhabi.
Location: Rashid Bin Saeed Al Maktoum 2nd St., Abu Dhabi, United Arab Emirates
Timings: 10am – 9 pm
Key attractions: During the fort area, the annual Qasr al-Hosn festival takes place.
Things to do: The Qasr al-Hosn festival features live music and dance performances.
6. Safaris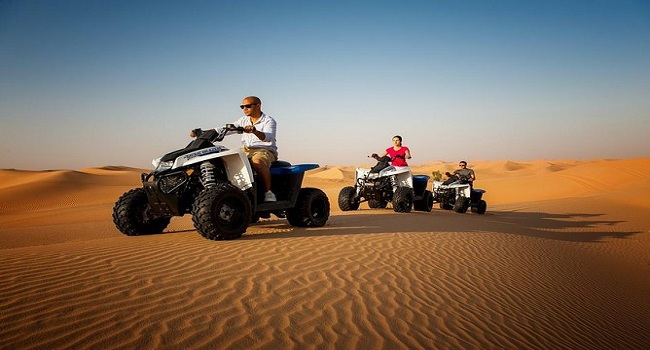 Take a ramble in the desert to experience the adrenaline rush. Visiting Abu Dhabi's deserts can be one of the most adventurous experiences you will ever have. Get mesmerized and enthralled by wadi bashing and dune driving in a 4*4 wheel drive for 20-30 minutes.
Location: Al Ain Road, Abu Dhabi, United Arab Emirates
Key attractions: Explore the local culture and cuisine for a xerophytic experience.
Things to do: Come dance to the belly dancers, ride camels, and experience beautiful sunsets
7. Desert Camp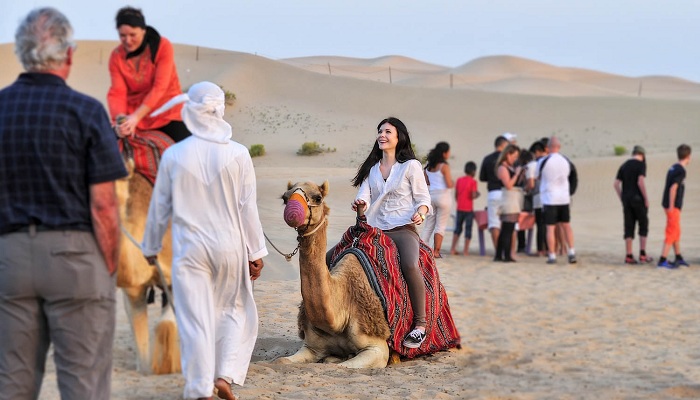 Experience the city in a more personal manner by staying in beautiful desert camps. You can also spend an overnight stay in one of the desert camps if you are not satisfied with a desert safari. Desert safaris in Morocco are unlike anything you have experienced before.
Location: Al Khatem, Abu Dhabi
Key attractions: Spending an overnight in the desert camping
Things to do: You can ride camels, do belly dance, drink Arabic coffee, go sand boarding or get henna painted.
8. Ferrari World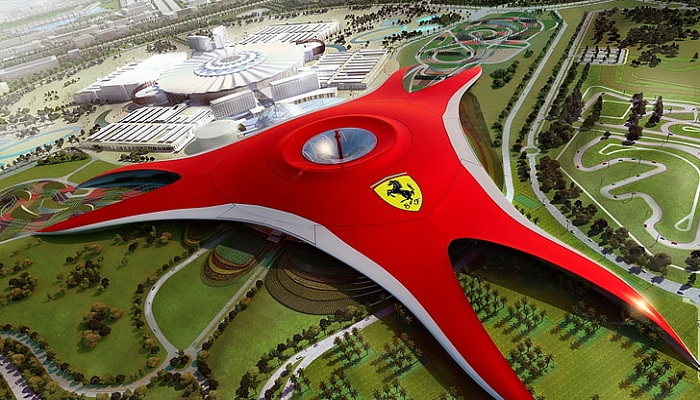 If you are a thrill seeker or a car enthusiast, Ferrari World is undoubtedly one of the must-see attractions in Abu Dhabi city. The Ferrari World Abu Dhabi theme park is ranked among the top amusement parks in the world, and occupies an area of 86,000 square meters that is home to several rides, shows, and attractions for guests of all ages. Apart from rides, Ferrari World hosts a number of events, has a number of top-notch restaurants, and boasts a grand shopping center where visitors can purchase various Ferrari products such as clothes and accessories. Moreover, people can also choose to send gifts to Abu Dhabi to make this trip interesting.
Location: Abu Dhabi, United Arab Emirates
Timings: 11 AM – 8 PM
Key attractions: Flying Aces, Turbo Track, Scuderia Challenge, and Formula Rossa
Things to do: Dine in a high-end restaurant, shop till you drop, or take a Ferrari ride!
9. Marina Eye
Ride the Marina Eye giant wheel to enjoy panoramic views of Abu Dhabi, one of the best things to do in Abu Dhabi. Once you step inside one of the giant glass capsules of this rotating wheel rising 196 feet in the air, you'll be treated to sweeping panoramic views of Abu Dhabi. It is a great activity to indulge in at night when you can gaze at Abu Dhabi's glittering skyline, as this 5-minute ride will surely bring smiles to your loved ones' faces.
Location: Marina Island, Abu Dhabi
Timings: 11 AM – 11 PM
Key Attractions: Experience Abu Dhabi's most stunning panoramic views from a 196-foot tall rotating wheel
Things to do: Spend some time at the waterfront.
10. Emirates Palace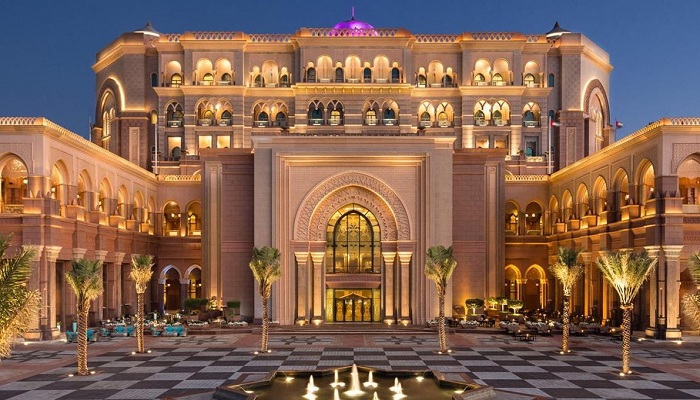 The Abu World trip would not be complete without a visit to the Emirates Palace. If you are passionate about a luxurious lifestyle, you shouldn't miss this place. The hotel, which occupies an area of 100 acres, provides its visitors with all kinds of luxury.
Location: West Corniche Road, Abu Dhabi
Key Attractions: It offers a variety of restaurants serving cuisines from around the world and a luxurious lifestyle similar to what you would find in the Arab world
Things to do: Experience the luxury of a luxurious lifestyle
11. Emirates Park Zoo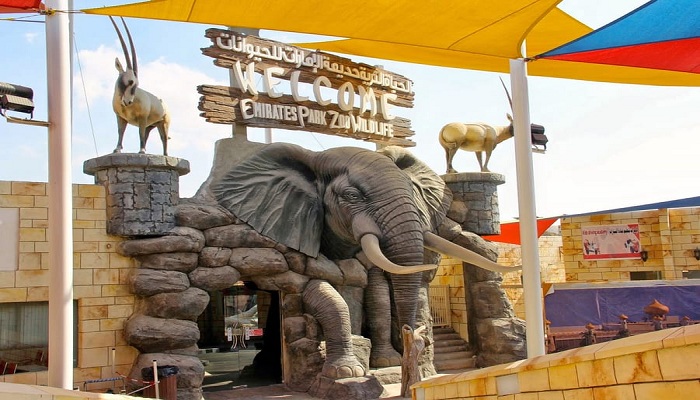 A visit to the Emirates Park Zoo is the best way to experience Abu Dhabi sightseeing. The Abu Dhabi zoo has around 1700 animals, including Lions, Cheetahs, White Tigers, and Siberian Bears, to name a few.
Location: 12th St – Abu Dhabi – United Arab Emirates
Timings: On Sunday to Wednesday, from 9 am to 8 pm, and on Thursday to Saturday, from 9 am to 9 pm
Key Attractions: Different species of wildlife can be seen
Things to do: Take part in fun activities such as breakfast with a giraffe and a parrot at a luxury resort.
12. Warner Bros World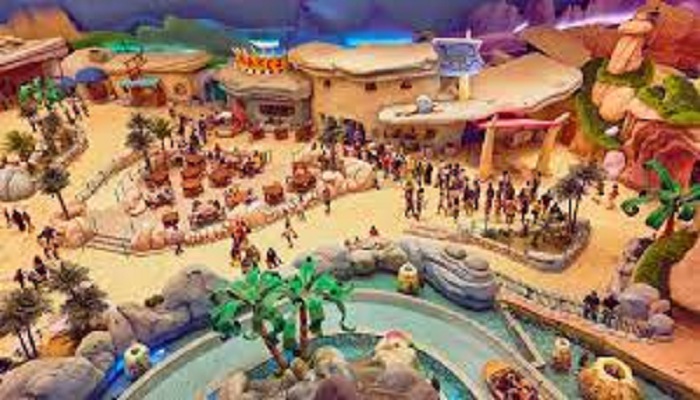 Warner Bros World is one of the famous Abu Dhabi tourist attractions. It's the third of its kind in the world. A variety of indoor and fully conditioned attractions in the park make it one of the most exciting places to visit in Abu Dhabi.
Location: Al Falah Rd – Abu Dhabi – United Arab Emirates
Things to Do: Visit the park to experience its unique rides and attractions.
Timings: We're open from 10:00 to 8:00 PM, Saturday to Wednesday, and 10:00 to 10:00 PM, Thursday and Friday.
Key Attractions: The Joker Funhouse, The Jetsons Cosmic Orbiter, Tom and Jerry: Swiss Cheese Spin,and Scooby-Doo: The Museum of Mysteries are just a few of the attractions in this theme park.
13. Al Ain Palace Museum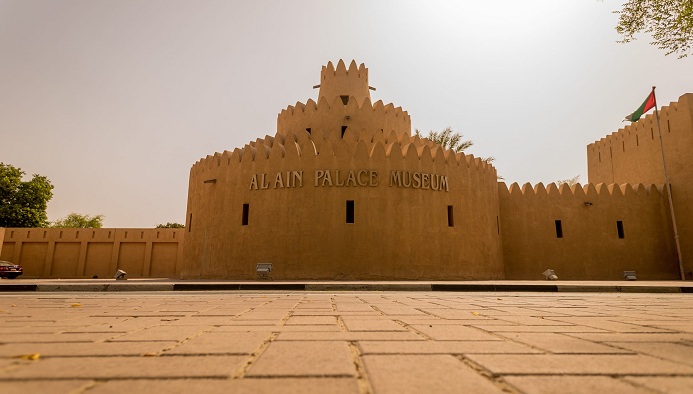 Al Ain Palace Museum is a museum built on the site of a historical fort. One of the most popular free places to see in Abu Dhabi is also known as Qasr al-Ain. The museum was first opened to the public in 2001 and now is one of Abu Dhabi's most popular tourist attractions.
Location: Al Mutawwa, Al Ain
Timings: 8:30 am to 7 pm
Key Attractions: Architecture of traditional beauty
Things to Do: Take a look at the royal lifestyle and the rich history of the country
14. Etihad Towers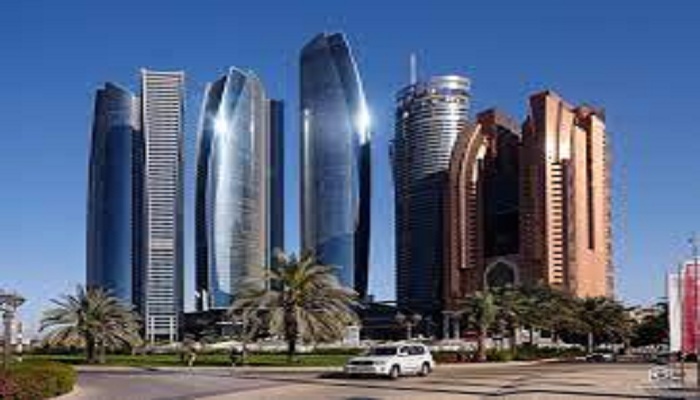 Abu Dhabi's Etihad towers is one of the attractions in the city. A building complex with five towers offers workspaces, hotels, shopping centres, restaurants, entertainment areas, apartments, and much more. Tower 2 is the tallest building in Abu Dhabi, as it is the second tower of the complex.
Location: Corniche West Street, Abu Dhabi
Key Attractions: Despite the gleam of sunlight and artificial light, the towers are said to shine forever.
Things to Do: Experience the beauty of this breathtaking location that is a charming example of human imagination.
15. Al Jahili Fort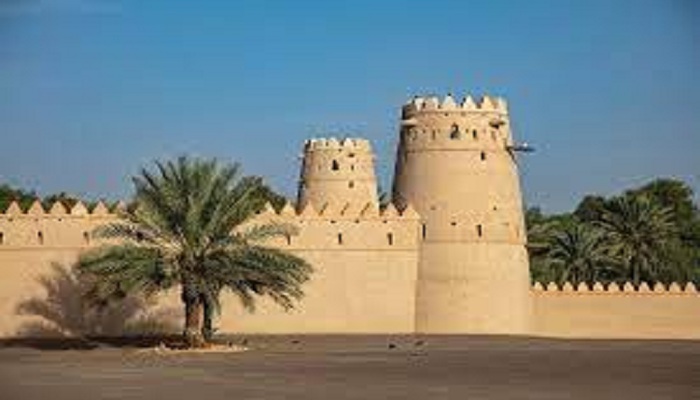 Al Jahili Fort was constructed in the 19th century and is an architectural wonder. Fort Al Quds is one of the largest forts in the UAE, and it played a significant role during bygone eras. A commission was given to Sheikh Zayed bin Khalifa for constructing the fort.
Location: Al Ain City
Timings: 9am to 5pm
Key Attractions: Infrastructure of outstanding quality
Things to do: Discover the history of the palace while exploring it.
Wrap Up
Picking a destination for your winter holiday can be difficult. Kids will enjoy a winter wonderland, and you would like to enjoy the festive atmosphere, but your partner is not interested in venturing further west since it's cold and knee-deep snow. Winter in Abu Dhabi is a lot of fun if you visit with your family and friends. And, if you are visiting on birthday or anniversary, or festivals like Ramadan, Eid Al Fitr, make sure you are carrying gifts for your loved ones. This is of no hassle as Flowerdeliveryuae.ae can be your best place to shop online gifts for different occasions and celebrations and for every one on your list.
Customers can avail flower delivery Abu Dhabi from our store to surprise your husband or wife on special days and celebrations. Additionally, our gift range also includes cakes, greetings, decor items, chocolates, dry fruits, and gift hampers as well, perfect for surprising your near and dear ones in Abu Dhabi.
So, choose the destination for vacation and with our gift range, we will help you make simple vacation a memorable affair to cherish for a long time.