"Flowers are the sweetest things God ever made and forgot to put a soul into." – Henry Beecher.
We could not agree more with Henry Beecher's thoughts of describing flowers as one of God's most unique and beautiful creations.  Undoubtedly, flowers have infused our lives with their connotations. From ancient times, flowers of different shapes and colors are beings used to express feelings and emotions.  Flowers are the most cherished treasures in Human life, known for their sweet enchanting aroma. It is indeed not a surprise of Shakespeare to compare the beauty of love with the beauty of flowers. The fleeting and ethereal beauty of flowers is incomparable to anything in the world other than the feelings and emotions of a person flourished in love. But, when you have to choose the most beautiful flower in the world to showcase your love and feelings, the decision becomes very hard and almost impossible to make. Every flower is beautiful in its own meaning, symbolization, color, aroma, and variety. No two flowers can be compared, and thus, it becomes a mystery to find the best flower in the world.
Well, if you are curious to know about the most beautiful flowers on earth, we will help you get the answer in this share. Here, we have this list curated by our flower experts depicting the most beautiful and rarest flowers on earth you have no idea about. So, if this catches your attention, then let us begin our floral ride:
1. Water Lily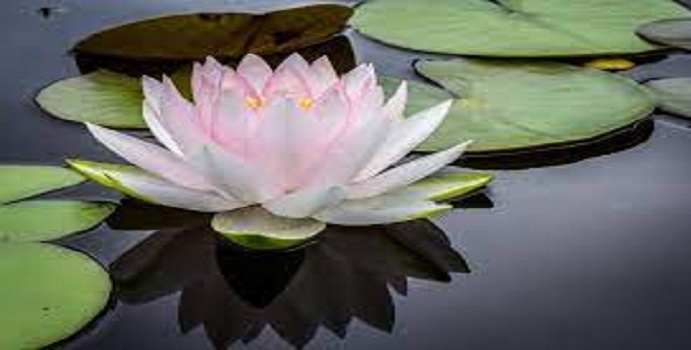 Water Lily is known as "The Queen of Aquatic Flowers" for a reason as there are almost more than 70 different varieties of water lily in the world. Aiding in protecting the ecosystem, this gorgeous aquatic flower helps in maintaining an adequate and excellent habitat by balancing the temperature of the water. These stunning flowers bloom from morning to evening and are available in different colors like white, orange, pink, blue, purple, and red.
2. Bleeding Heart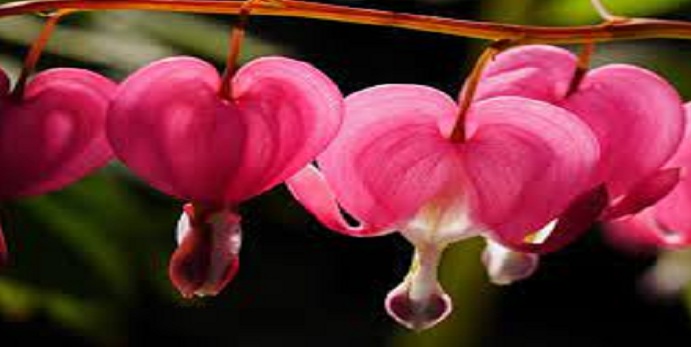 As the name suggests, the bleeding heart is one of the most popular pink and white-colored flowers, having a beautiful heart shape. Symbolizing love, affection, and compassion, this flower catches everyone's attention with its astonishing beauty. You can enjoy the eye-pleasing of this heart-shaped flower variety in colors like bright red, cute pink, stunning yellow, and polite white.
3. Cherry Blossom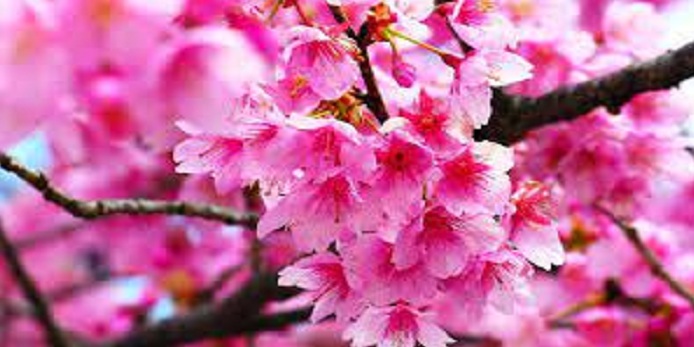 Cherry blossoms fall on the list of the most beautiful flowers globally, and hence, they need no explanation. If you love cherry blossoms, you have to experience the beauty of the National Cherry Blossom Festival. This uniquely beautiful holds utmost significance in the Japanese culture, and hence, this flower has to be on this list for sure.
4. Bird of Paradise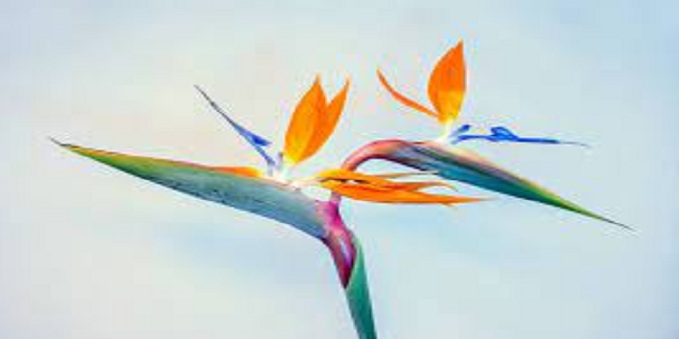 This flower not only has a unique name but has gained popularity because of its enchanting beauty. Bird of Paradise is South Africa's exotic native that represents the bird of paradise when fully bloomed. This flower variety is also popularly known as the "Crave Flower," which symbolizes paradise.
5. Dahlia
Dahlias are the natives of Mexico available in more than 40 different and gorgeous varieties. Cultivated all around the world, this stunning flower is available in so many different shapes, sizes, and shades. Dahlias bloom in midsummer and after the first frost and are widely cultivated all around the world,
6. Lotus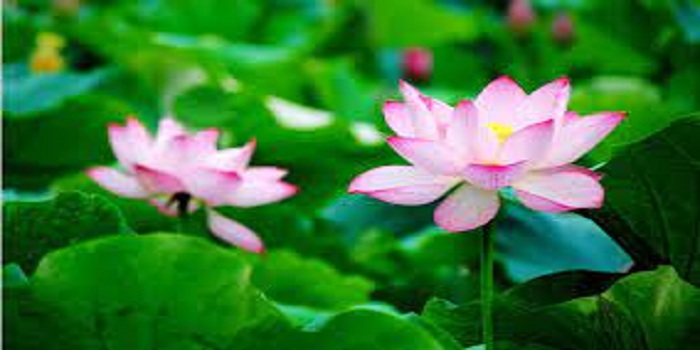 Seeing lotus brings a glow to the face and pleases eyes with its beauty. Regardless of how dirty ponds look like, lotus always catches the attention. The gorgeous lotus flower is considered sacred for Buddhists, symbolizing harmony, divinity, purity, grace. You will found lotus mainly in pink and white shades dazzled with big green leave holding the flower. They are also used for worshipping and offerings in temples.
7. Orchid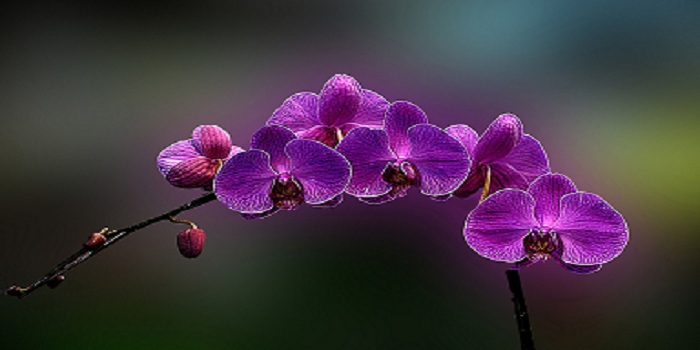 If you claim you have seen the most beautiful flower bouquet, orchids must have also been its part. Orchids are the stunning and the most gorgeous flowers in the world available in different colors like red, yellow, white, pink, purple, and many more. Orchids belong to the largest flowering families founded almost everywhere on the earth.
8. Tulip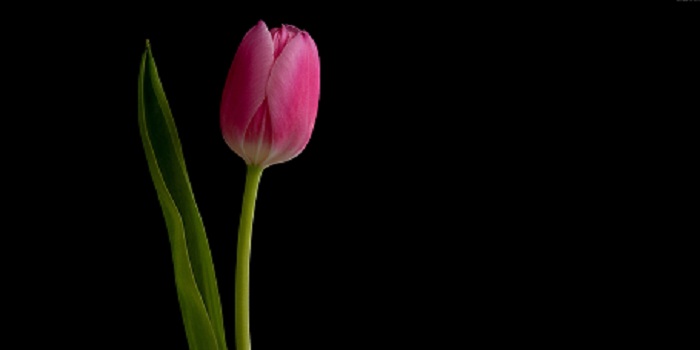 Tulips are undoubtedly one of the most cultivated and widely found flowers available in almost 300 varieties and more than 150 species. Beautiful tulips bloom in every spring season and come in almost every unique, bright, and vibrant color. But, these colorful cut-shaped flowers have a short life as they are only open for 5 to 7 days. They make the best choice as the garden flowers, vase flowers, and flowers for bouquets or arrangements.
9. Gazania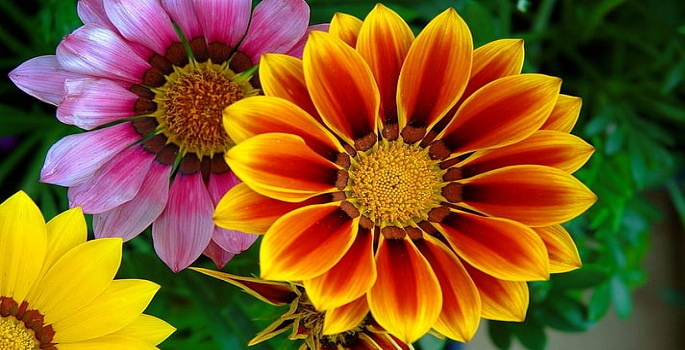 Popularly known as the sun-loving flowers, Gazania blooms only in midsummers and needs complete sunshine for their growth. These flowers are the South African natives popularly known as the "Treasure Flower," which opens in different shades of white, pink, orange, yellow, and red. You can enjoy the beauty of this charming flower till the early fall.
10. Rose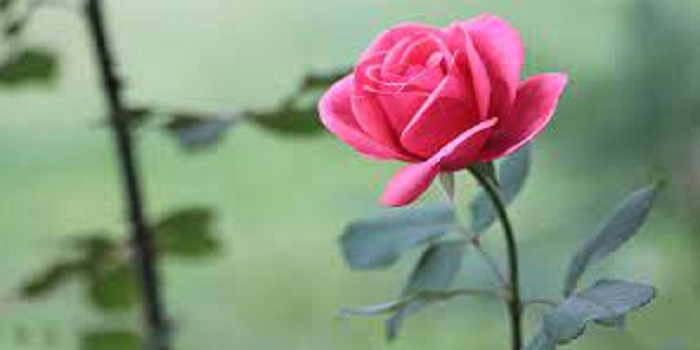 Talking about the most beautiful flowers in the world, we cannot afford to miss roses. No one can deny the fact that gorgeous roses in all their vivid colors and shades are some of the most beautiful flowers on the earth. The most gorgeous rose flower symbolizes love, affection, purity, and compassion. Everyone prefers to greet each other either with rose bouquets or flowers with chocolates on special occasions as roses are very popular for their unique colors like yellow, orange, blue, pink, white, and black.
11. Hydrangea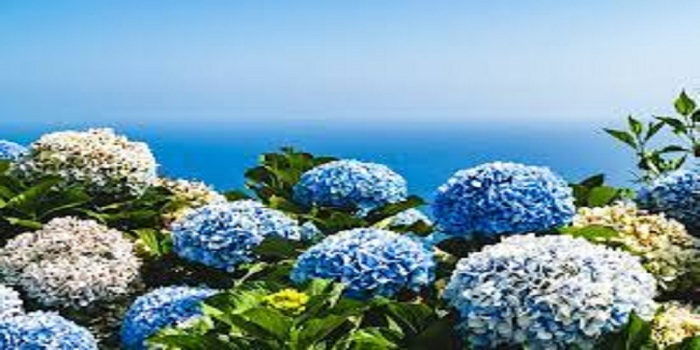 The stunning flowers of Hydrangea are originally from Southern Asia that holds popularity worldwide with their unique colors and pleasing aroma. This gorgeous flower is known for its undeniable beauty that makes it a part of home décor. You will see a lot of Hydrangea in flower bouquets, bunches, and floral arrangements.
12. Freesia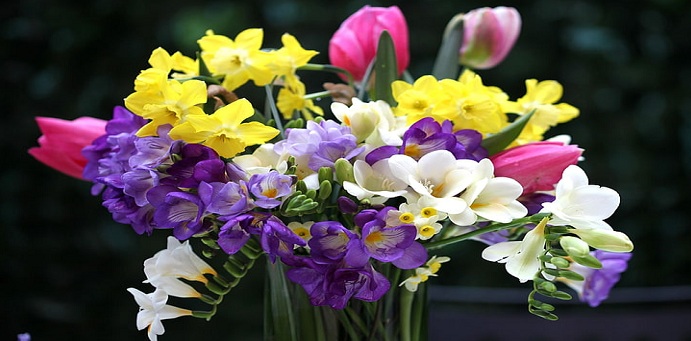 Freesia, the loveliest flower native to Cape Town, Southern Africa, is considered one of the most uniquely textured and gorgeous-looking flowers. This stunning flower symbolizes strength, unity, and power and is also used for sprucing up the home.
13. Spikenard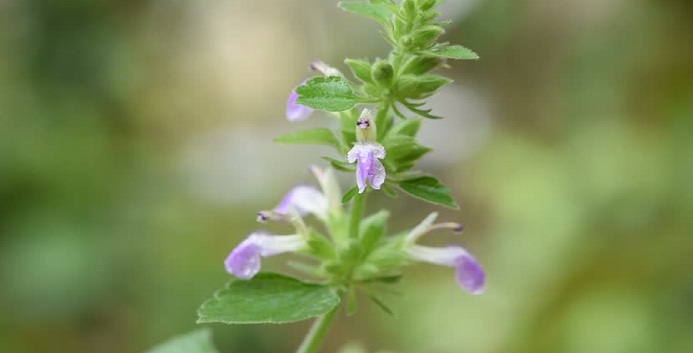 Popularly known as the "Saint Joseph Flower," Spikenards are one of the most beautiful and stunning flowers belonging to the Valerian family. The beauty and the unique design of this gorgeous flower make it an ideal option for floral art creativity. White spikenards are also known for decorating homes, crafting centerpieces, making flower bouquets, and decorating churches for wedding ceremonies.
14. Carnation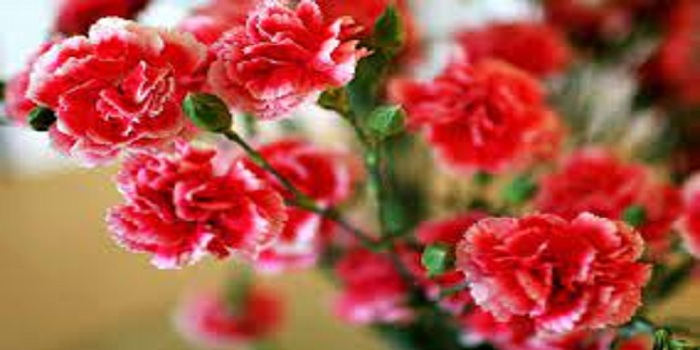 Carnations are not only one of the most popular flowers, but they also belong to the aisles of the most beautiful flowers in the world. Carnations are grown almost on every continent like America, Asia, Europe, and Africa. Carnations are also available in many different shades and varieties, perfect for ornamentations.
15. Sunflowers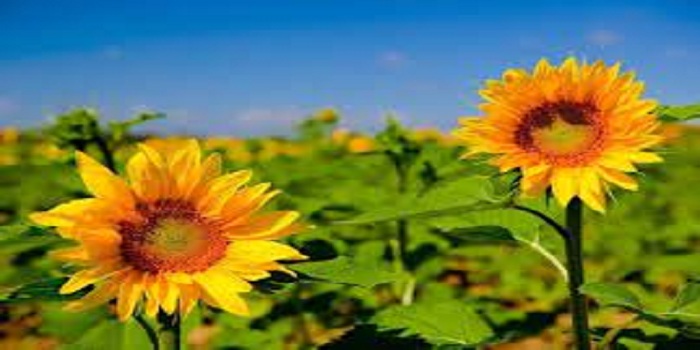 The bright yellow-colored sunflowers are undoubtedly one of the well-known flowers globally. This gorgeous flower variety is originally from North America known for its striking characteristics like passion, purity, harmony, unity, and good luck. These flowers make the best choice for home decoration and flower bouquet making.
Frequently Asked Questions (FAQs) – Best Flowers in the World
1. Which country has the most beautiful flowers?
As we have discussed above, some of the counties known for having the most beautiful flowers and botanical gardens are:
Grenada
Singapore
Australia
Switzerland
Spain
Brazil
Belgium
Netherland
Costa Rica
Oman
Japan
2. Which is the flower capital of the world?
Ans – Aalsmeer, located in North Holland, is known as the "Flower Capital of the World."
3. Where can I find the best roses in the world?
Ans – Bulgaria is popularly known as the "Land of Roses."
4. Which country is known as the "Flower City" of the world?
Ans – Guangzhou, the "Millennium Business City," is also known as the "Flower City of the world.
5. Which country has the most flowers in the world?
Ans – The Netherlands is known to produce most of the flowers worldwide.
6. Which flower is known as the "Queen of Flowers"?
Ans – Roses are known as the "Queen of Flowers".
7. Which flower is known as the "King of Flowers"?
Ans – Roses are known as the "King of Flower."
8. Which is the biggest flower in the world?
Ans – World's largest flower is Rafflesia Arnoldii, which can grow up to a height of 3 ft and gains weight around 15 pounds.
9. Which is the rarest flower in the world?
Ans – Middlemist Red is the rarest flower in the world.
10. Which is the deadliest flower in the world?
Ans – Nerium oleander is one of the most toxic flowers in the world.
11. Which is the most expensive flower in the world?
Ans – Shenzhen Nongke Orchid is the most expensive flower in the world.
12. How long can flowers last?
Ans – Most of the cut flowers can last up to 7 to 12 days.
13. Which flower blooms only once in 100 years?
Ans – Agave Ocahui is a flower that blooms only once every 100 years.
14. Which is the rarest shade of rose?
Ans – Blue rose is the rarest color of the rose.
15. Which is the most attractive flower in the world?
Ans – Rose, in every shade, is one of the most attractive flowers in the world.
16. What are the best flowers for women?
Ans – Roses, sunflowers, daisies, lilies, daffodils, tulips, irises, carnations, orchids, and roses are some of the best and aptest flowers to give to women.
17. What is the ugliest flower?
Ans – The corpse flower, botanically known as Amorphophallus Titanium, from Indonesia, is one of the ugliest and unattractive flowers in the world.
18. Which flower symbolizes death?
Ans – Chrysanthemum from America symbolizes death and has been seen placed on graves.
19. Which flower means happiness?
Ans – Pink roses are the symbol of happiness, joy, and admiration.
20. Which flower is known as "Flower of God"?
Ans – Carnations are popularly and traditionally known as the "Flower of God".
21. Which flower smells the worst?
Ans – Carrion flower is known to have the worst smell.
22. Which is the flower for the year 2022?
Ans – Red Maranta Prayer Plant is the flower for the year 2022.
23. Which is the flower color for 2022?
Ans – Yellow with a splash of earthy colors is the flower color for 2022.
24. What are the most popular wedding flowers?
Ranunculus
Peony
Rose
Calla Lily
Daisy
Baby's Breath
Succulent
Carnation
25. Which flower never dies?
Ans – The orchids never die.
26. Which flowers are most expensive?
Kadupul flower
Juliet Rose
Shenzhen Nongke Orchid
Gold Of Kinabalu Orchid s
Saffron Crocus
27. Which flower symbolizes evil?
Ans – Thistle symbolizes both evil and protection.
28. Which flower means depression?
Ans – Lilies are known as "Flowers of Sadness".
29. Which flower symbolizes eternal life?
Oriental lilies represent eternal life.
30. What is the smallest flower on earth?
Ans – Watermeal is the smallest flower on the earth.
Warm Closings
Flowers are considered one of the most beautiful natural treasures, representing true beauty in the purest form. Everyone cherishes the natural floral beauty that they even travel to Japan for cherry blossoms or to Holland for experiencing the true beauty of bright, colorful tulips. Owing to the good vibes and several benefits of keeping flowers around, everyone wishes to plant flowers in their garden or at least having one vase with real colorful and aromatic flowers. Besides aesthetic home décor, flowers are also one of the best gift options. From anniversaries to birthdays, from Valentine's Day to Friendship Day, from housewarming to baby shower, the enthralling beauty of flowers is perfect to spruce up every phase of life. Availing flower delivery Dubai or across the United Arab Emirates is undoubtedly one of the best ways to celebrate every special occasion.
Every generation from ancient times is evidence of how highly flowers have been cherished by everyone, every time, and everywhere. From roses to lilies to carnations to orchids, every flower represents different meanings related to deep emotions and symbolizations. Owing to this, Flower Delivery UAE has decided to cater to every flower lover's wish with our online flower range. From anniversary flowers to UAE to a vast range of birthday flowers, we have every flower variety you want. And, we also know it might be a tad bit daunting to find the most beautiful flowers in the world for showcasing emotions and sentiments. That is why; we have this share curated especially for all the flower lovers around.
"Flowers are the most divine creatures after women." – Christian Dior.