The United Arab Emirates, with its skyscrapers, luxury hotels, fancy malls, and stunning shoreline, is undoubtedly on every traveler's bucket list. UAE is an extraordinary architectural gallery, home to some of the world's top resorts and hotels. Along with this sky-touching architecture, the mosques, museums, and, most significantly, the famed man-made islands here create an enticing air that lures visitors. During your holiday, some of the best places to visit in UAE are Ferrari World, Legoland, and Marina Mall.
While everyone anticipates discovering and enjoying this "luxury vacation spot," go deeper into its parks, waves, and deserts. You will be charmed by its lovely nature, rich history, and flavorsome culture. Burj Khalifa, Fujairah Fort, Sharjah Heritage Museum, and Al Ain Oasis are just a few examples of the UAE's attractive side. This country is ideal for a family vacation, honeymoon, or even a break with friends, but it also has an adventurous side that is thrilling, to say the least. Moreover, it is easy to buy/send/order gifts to Dubai online and across the UAE for special occasions with the help of online gift shops in UAE.
Kayaking, mountain biking, hiking, and zip line are among the activities available in the mountains, deserts, and on the lake. You may also indulge your inner explorer by visiting natural reserves where you can witness unique types of plants, animals, and birds, and the gulf, which is home to colorful marine life. Continue reading to learn about the finest and top 20 best places in UAE, and start planning your next vacation soon.
Top 20 Places to Visit in the United Arab Emirates in 2022
Experience the finest of UAE on your luxury trip, from the stunning Palm Islands to the captivating Sir BaniYas. The following is a list of the greatest locations to visit in the UAE. Scroll down to find out what the United Arab Emirates has in store for you!
1. Palm Islands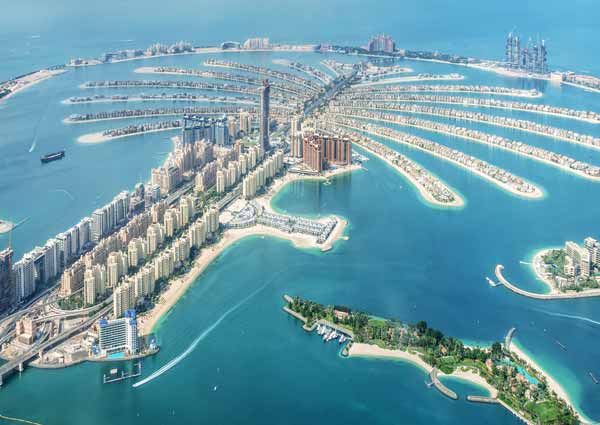 Palm Islands is one of the world's most renowned man-made archipelagos, consisting of three islands: Palm Jumeirah, Palm Jebel Ali, and Deira Island, the latter of which is currently under development. These islands are well-known and sought-after due to their thoughtful architecture, spectacular infrastructure, thrilling entertainment centers, and other tourist attractions.
• Best Time to Visit: September and October
• Ideal for: High-end hotels and resorts
2. Ras al-Khaimah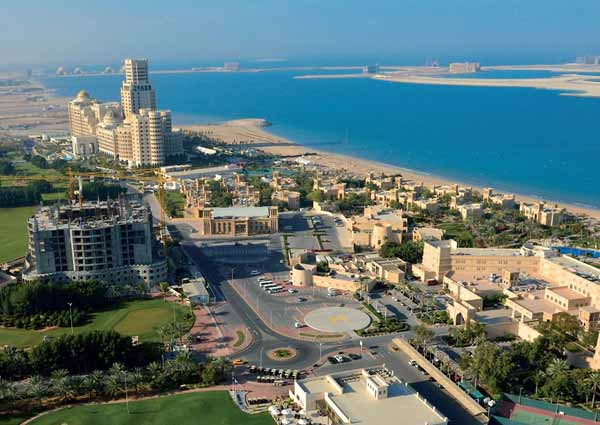 Ras al-Khaimah, one of the most unusual United Arab Emirates tourist spots, is recognized to exude the true gulf spirit. With its rich history in art, culture, and gastronomy, you may also add a variety of adventure sports such as zip line, cycling, climbing, and more up the rocky slopes.
• Best Time to Visit: December to February
• Ideal for: Dhayah Fort, Jazirat al-Hamra, and Khaimah National Museum
3. Jebel Ali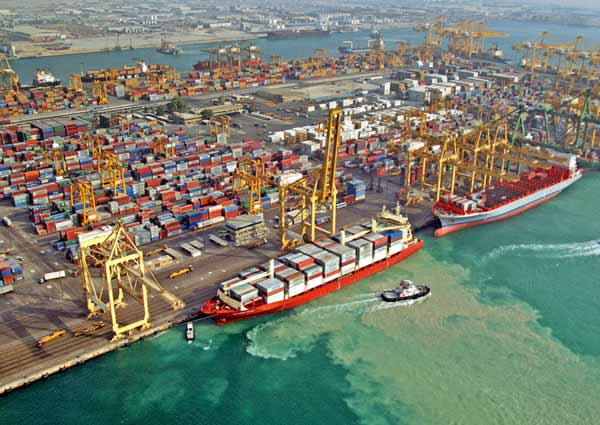 Jebel Ali is a unique tourist location. It is a port on the outskirts of Dubai, making it ideal for individuals who want to enjoy both Dubai and this port. You may ride, drive, or even walk up to the ultimate top of the UAE's second-highest hill, Jebel Hafeet, to see the flora in all its grandeur. This location in Al Ain provides views of the Oman border and the immense splendor of Al Ain. But a panoramic view isn't the only thing you'll enjoy in this free entrance location; you can also visit the museums, forts, and tombs in the nearby tourist areas while you're here. You may go up there whenever you want because it is open all day. A number of nearby attractions include Legoland and Bollywood Parks. Aside from them, Jebel Ali Beach provides a soothing experience and is one of the unique locations in the UAE.
• Best Time to Visit: November
• Ideal for: Historical Places
4. Umm al-Quwain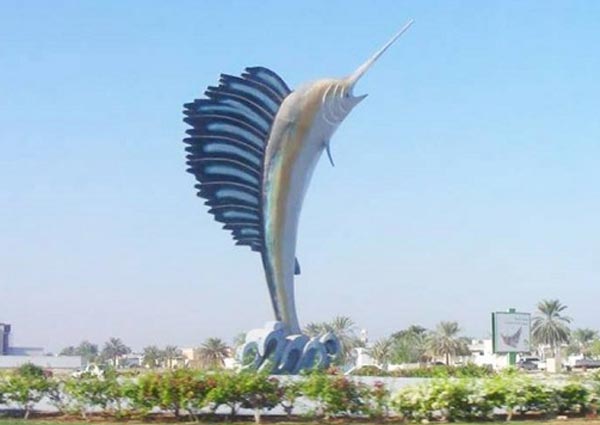 Umm al-Quwain, a tiny coastal town in the UAE, features the greatest gardens and water parks, a beautiful beachfront, and a range of museums and other cultural attractions. While in the UAE, do not miss out on visiting the UAQ National Museum and Dreamland Aqua Park. For better summer vacation experience in UAE, make sure to book UAE tour packages from a reputed online travel agency.
• Best Time to Visit: November
• Ideal for: Umm Al Quwain Fort, Ajman City Centre, and UAQ National Museum
5. Sir Bani Yas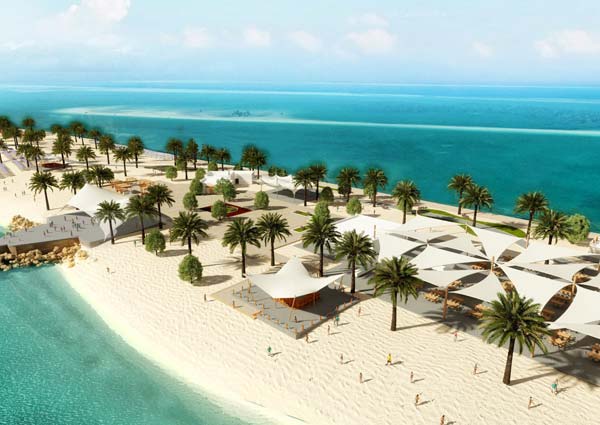 Sir BaniYas is well-known for being the UAE's biggest natural island. While it was formerly one of the most outstanding natural reserves in Arabia, it nevertheless supports a diverse range of flora and animals today. Wildlife viewing, bird watching, safaris, and mountain biking, snorkeling, and kayaking are all available here.
• Best Time to Visit: July and August
• Ideal for: Luxurious Resorts
6. Jumeirah Beach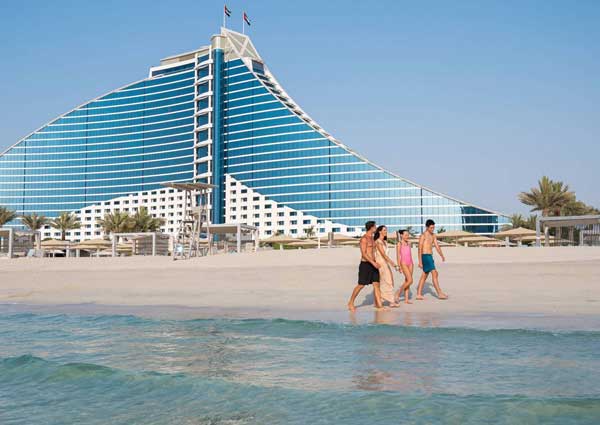 If you prefer to enjoy spending time at the beach than the hills, this is one of the greatest free locations to visit in the UAE! Jumeirah Beach is a gorgeous white sand beach that is well-known in Dubai for its beauty. One of the finest features of this beach is that the leading hotels – Burj al Arab and Jumeirah Beach Hotel – are located on its shore.
• Best Time to Visit: Throughout the year
• Ideal for: bathing, surfing
7. Zabeel Park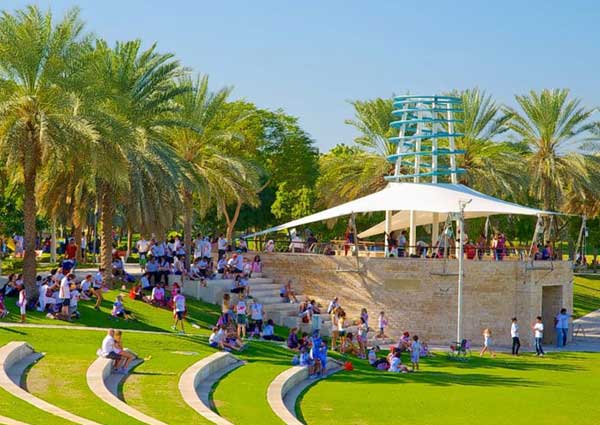 Zabeel Park is one of Dubai's most impressive leisure amenities. It is lusciously green and located near the Jafiliya Metro Station, so guests who are unsure about roads and directions may also enjoy it. Visit on hot weekends and swim about in its azure waters to cool down. There are barbecue areas, playgrounds, and an amphitheater in the park. Bring your meat to the grill, let your kids play on the playground, and enjoy the amphitheater atmosphere. While you're here, you should also check out the Dubai Garden Glow.
• Best Time to Visit: February
• Ideal for: Activity Zones
8. Abra Ride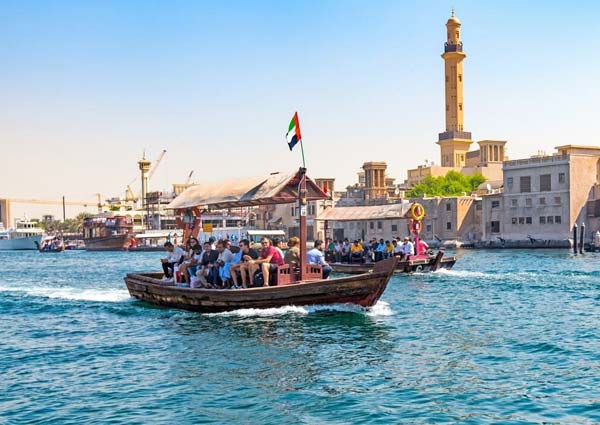 Dubai is a persistently hot destination, and visiting there means you'll be continually looking for shade or a cool spot to visit. If you want to beat the heat, take the Abra Ride in Bur Dubai. It is a more convenient method to cool off without driving all the way down to the beaches. Moreover, if you are visiting here for camping, this location can be of the best places in UAE for night camping as well.
• Best Time to Visit: All throughout the year
• Ideal for: Bur Dubai Abra Station
• Timings to Visit: 5 am to 12 am
• Price: DH 1 per ride
9. Al Fahidi Historical Neighbourhood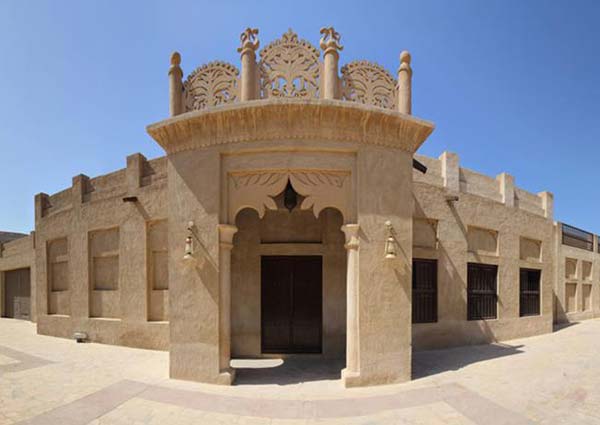 You will get a taste of old Dubai as you wander around the streets here. It is located in Bur Dubai, immediately across from the metro station. Al Fahidi retains its classic 20th-century architecture, but the sensation of being transported to another period is heightened by the manner in which life was conducted back then. Life in this village is still based on the community. There is no admission price, and it is always available for visits, but be sure to go when you are able to see the adjacent museums and stores.
• Best Time to Visit: All throughout the year
• Ideal for: Old Dubai Lifestyle
10. Hatta Pools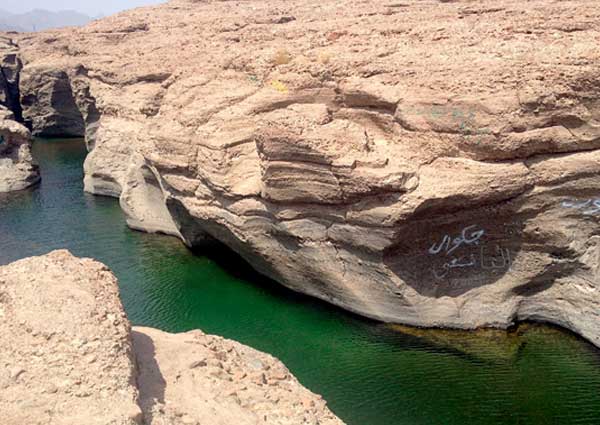 If you've ever wished to be surrounded by lush and clean vegetation, this is the place to go. Hatta Pools are located in Hatta and are open to the public for free. You'll need to rent a car to get here, but the trip is well worth it for what you'll get in return. Wade into the pristine blue-green seas that serve as the focal point for the gritty pebbles that erupt around them. Explore the rich culture that has been properly maintained. There is also a historic village on the road if you want to learn more about Hatta. Carry your Emirates ID as well as any additional verification papers with you.
• Best Time to Visit: June Till August (to avoid the crowd)
• Ideal for: Sightseeing
11. Sheikh Saeed Al Maktoum's House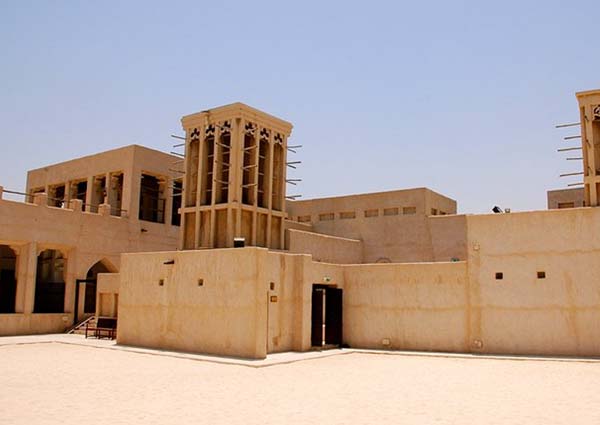 Because it was the house of a past king of Dubai, this location will provide you with in-depth information about the city's history. Since the home has now been transformed into a museum, you will be able to see a diverse array of spectacular exhibits at Al Shindaga. But, unlike other museums, the makeover has not rendered the space sterile, and it retains its old-world charm.
• Best Time to Visit: All throughout the year
• Ideal for: Sightseeing
• Entry Fee: DH3 per person
12. Al Mamzar Park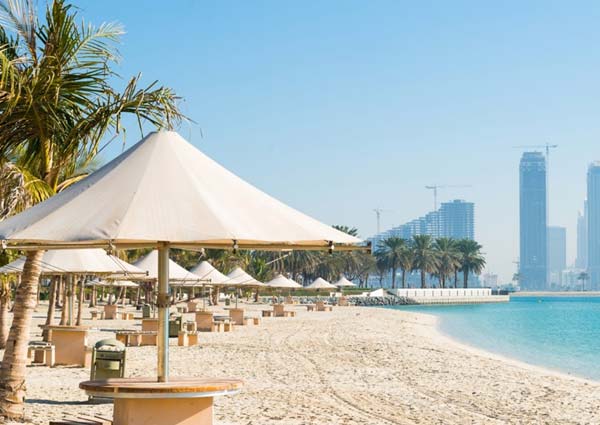 If you are wary of endless tourism or are searching for some peace and quiet, Al Mamzar Park is the place to go. Located in Al Mamzar, you will have the opportunity to rest under the thick and colorful trees while forgetting about everything around you. There's also some blue to balance out the green, as you can opt to relax in the tranquil, pure waters of the beach.
• Best Time to Visit: All throughout the year
• Ideal for: Beaches, Barbeques, Open-air Amphitheatre
• Entry Fee: DH5 per person
13. Saruq Al Hadid Museum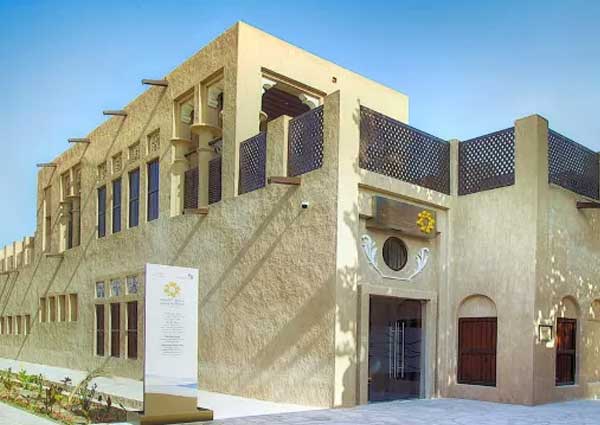 At the open museum in Dubai's historic neighborhood, you may discover and learn about the Arabian Peninsula's iron age. This location is a magnificent fusion of the past and the contemporary. Bring your family and enjoy learning a timeless story. Aside from the many artworks and relics on display, the architecture of the location is also worth a look at. The Souq Al Hadid Museum is in the Shindaga neighborhood.
• Best Time to Visit: All throughout the year
• Ideal for: Exploring the rich culture and heritage of the place
• Entry fee: DH20 per person
14. Qaryat Al Torath Heritage Village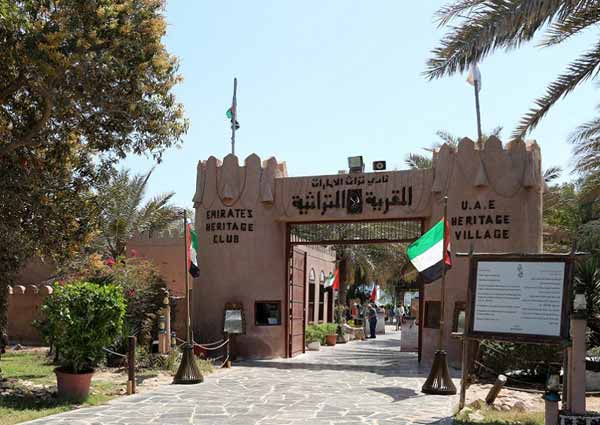 As the name implies, you will be able to experience a small part of Dubai's legacy amidst all of the world's most famous and admired steel structures. This heritage hamlet is located in Al Ain, and here you may learn more about the community's traditional handicrafts and rituals. You will also be able to take these home, thanks to the 32 stalls set up there. The Qaryat Al Torath Heritage Village's goal is not only to highlight a barely alive culture but also to share information about its presence in order for the custom to endure.
• Best Time to Visit: All year round
• Ideal for:Souq stalls and handicrafts
• Entry fee: DH5 per person
• Timings: 9 am to 1 pm
15. Sheikh Zayed Grand Mosque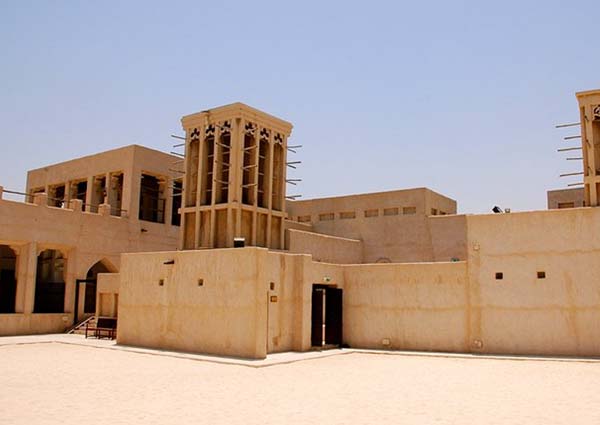 The magnificent design of the Sheikh Zayed Grand Mosque Centre makes it one of Abu Dhabi's most popular tourist attractions. This is one of the few large-scale mosques that accepts non-believers. It is positioned between the Mussafah, Shaikh Zayed, and Maqta bridges and is huge and magnificent. It is one of Abu Dhabi's cultural landmarks and a must-see to gain a sense of Dubai's grandiosity.
• Best Time to Visit: January
• Ideal for:Praying
• Entry fee: Free
16. Gold Souk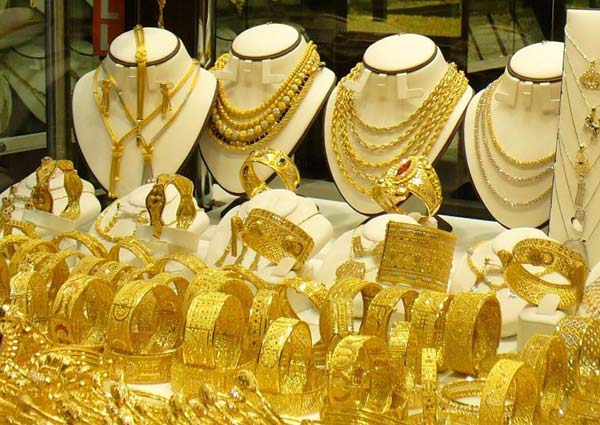 The streets of Gold Souk demonstrate the adage that all that glitters is gold or a semi-precious or valuable stone. A terrific spot to go for some bling shopping in Deira; here is the site that will make you glow. With rows of stores offering all kinds of pricey stones or gold, this may be your chance to practice your haggling abilities. Although admission is free, money will start pouring out as soon as you start buying.
• Best Time to Visit: October till February
• Ideal for: Buying gold jewelry and other gold items
17. Jumeirah Mosque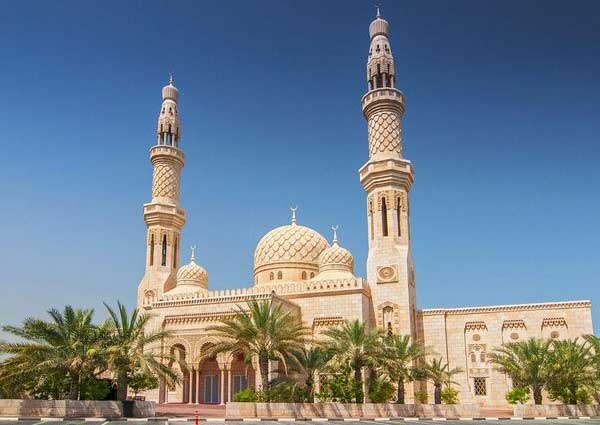 This is Dubai's only mosque that welcomes non-Muslims six days a week. The mosque is a cultural learning institution, and its architectural style, which is evocative of Fatimid architecture, can be seen. You may also take a guided tour of this location; however, it is recommended that you arrive early in the day. One of the advantages of attending the trip is that you will be able to sample traditional cuisine.
• Best Time to Visit: December to February
• Ideal for: Praying
• Price: DH29
18. Dubai Safari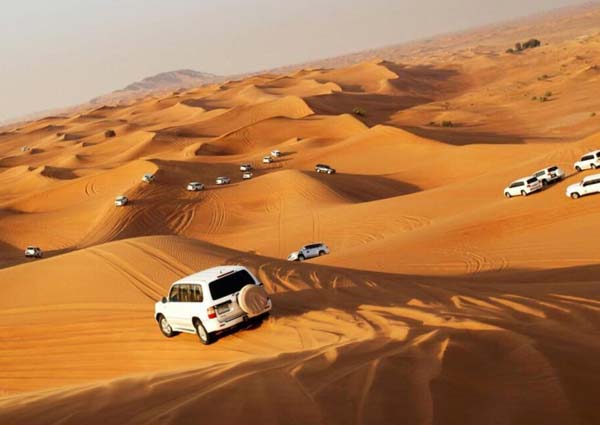 The Dubai Safari, which is home to over 300 kinds of birds and animals, is the ideal destination to visit if you want to take a break from the continual visiting of crowded tourist attractions. It is located in Al Warqa and is an excellent spot to take family and children. You will enjoy the intimate experience with these creatures. Also, don't forget to take as many photos as you can as this place is one of the best places in UAE for photography.
• Best Time to Visit: November to March
• Ideal for: Wildlife
19. Masdar City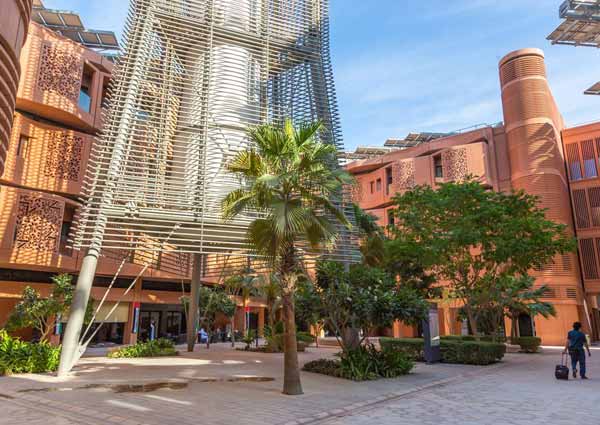 Masdar is located near Abu Dhabi International Airport and was designed to contribute to the advancement of sustainable development. The well-knownMasdar Institute of Science and Technology is also located here and is available to the public throughout the day. You will arrive at the location in an unmanned pod-like vehicle. Prepare to have fun in the metropolis of the future.
• Best Time to Visit: November till March
• Ideal for: Modern architecture and utilization of energy resources
20. BurjKhalifa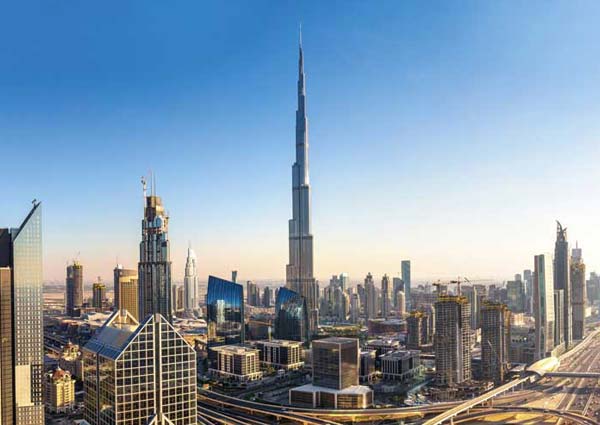 The BurjKhalifa is a well-known skyscraper in Dubai, United Arab Emirates. This tourist destination should be on your list of things to do in the UAE. This has been the world's highest building since 2008. The tower is seen to be a perfect blend of cultures from all around the world. This magnificent edifice also serves as a venue for parties and celebrations. It is on the list of places to visit in the UAE in 2022.
• Best Time to Visit: All throughout the year
• Timings: 9 AM to 11 PM
Final Takeaway
The UAE is a vibrant and colorful country that, regrettably, appears to be overshadowed by the metropolis of Dubai. Dubai is a fantastic metropolis, but it's also worthwhile to see the UAE outside of the city. Outside of Dubai, these are the top locations to visit in the UAE to really get a feeling of this gorgeous country, from untamed deserts to cultural treasures.
The United Arab Emirates is more than just Abu Dhabi and Dubai. The United Arab Emirates is well-known for its lavish architecture and shimmering skylines. The country's unique natural beauty is overshadowed by the country's towering highrise skyscrapers. Each city in the UAE has its own natural area. These locations have not been commercialized and are peaceful and undisturbed by man. So, for all you nature lovers out there, here are the 20 best places in UAE to visit during your next vacation in 2022.
Additionally, if you wish to buy or send gifts to Abu Dhabi online on special occasions like birthdays and anniversaries at an affordable rate from one and only Flowerdeliveryuae.ae.