OH OH OH!!! Santa Clause is here wishing everyone Merry Christmas!!
With twinkling lights and loads of checkered glittery decoration, the most-awaited and widely celebrated occasion of Christmas is here to mark the end of the year 2020 with some goodness and joy.This is indeed the perfect time to put all your sadness and bad time aside and your happy go mood on full display as Santa won't like to see your dull face and after all, he will be sending some of the best presents of life for you, this Christmas 2020.
Whenever it is about decorating your place for the holiday season, there are several things that strike the mind. But, some of them turn out to be old and boring and some are so expensive that most of you cannot execute. That is why; we have come up with some amazing, trendy, and the latest Christmas home decoration ideas 2020 that will make your place festive ready to welcome Santa, and lots and lots of happiness for the festive season.
One thing that is to be kept in mind while decorating your place is that you can choose anything and almost everything to glam up your place, from a mantel to the dinner table to the center table and everything that will spruce up the festival and life the mood of everyone. With traditional red and green colors, you can create a superb eye-catching and breath-taking look for Christmas to create a festive look.
Here, we have rounded up some of the amazing DIY Christmas home decoration ideas for every room in the house, from the kitchen to the living room to the staircase and everything at your place. And, for this, you can choose from decorative wreaths to creative garlands, eye-catching stockings, and many more options to show off the holiday spirit and lift the mood of the holiday season.
So, what are you waiting for? Quickly explore these home decoration ideas and make your place party-ready:
1. Ice-themed wreaths for entry decoration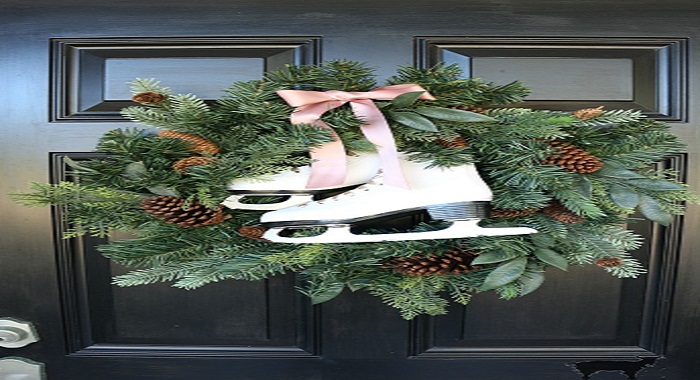 This year, to give your home a festive look, why don't you forgo the old and traditional wreaths and give a try to the hand-crafted and designer ice skates wreath! This is indeed one of the best nice options to give your place a whole new look as you might have used green and red ones every year and, trying the ice ones that are decorated and gingered up with the colorful pom-poms and silver ornaments in undoubtedly the best idea to go with.
2. Citrus garlands for decoration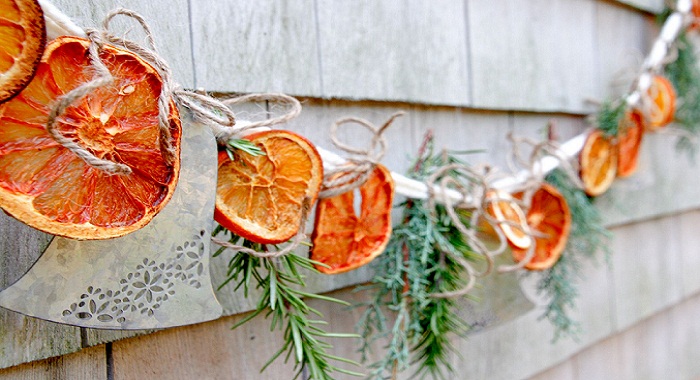 You might have used fruits to give aesthetic look to your center table, but do you know that you can also use fruits in your Christmas decor set up! Yes, of course, they can be used to give a fun twist to the décor items. One thing that you can do is to make a handcrafted garland with dried citrus fruits like lemon slices or orange slices and they will look simply awesome and will give a unique look to your place.
For preparing the garlands, you can use twine and nylon threads to assemble the citrus fruit slices. And, after this, you only have to put this creativity of yours on full display for dressing the Christmas dinner table or the staircase or even the window shelves.
3. Ditch the red and green palette and switch to bold colors this Christmas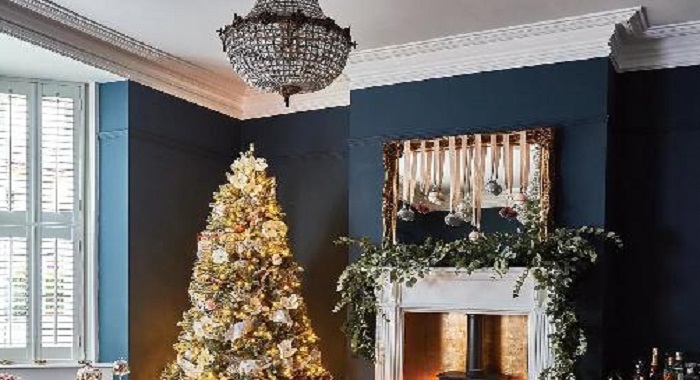 On this Christmas, why don't you ditch the traditional Christmas palette and give a try to the bold colors that will give a whole new look at your place, on this Christmas holiday season. Also, there is no reason that you don't embrace the bold colors at your place, this Christmas season. Also, giving a try to the other color combinations apart from the combination of white and green will give your living room a unique and finished look.
4. Decorative and festive makeover for your pillows and curtains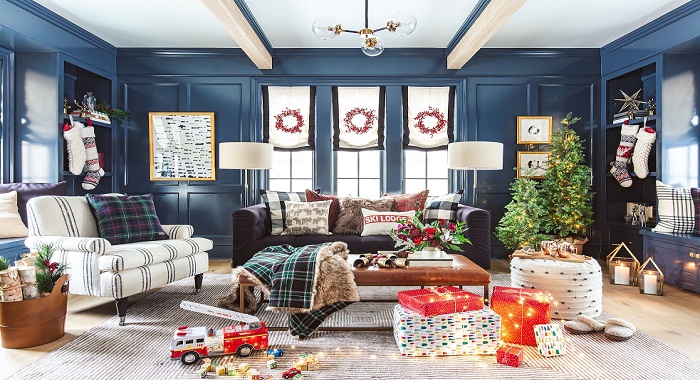 Are you planning to binge-watch your favorite Netflix series and the holiday movies this Christmas season? If yes, then your sofa in the living room will be there to accompany you, and with the sofa, your pillow will also be there to make you feel comfortable on Christmas night. Then, why don't you find a more amazing way to give your pillow festive ready? This job is very easy as you only need to decorate your pillow with a red pillow cover and white ribbon bow to give it is aesthetic Christmas look.
Now, after this, let us take a look at the boring curtains of the home to make them festive ready. For this, you only need to find such curtains that are having jovial and cheerful prints over them that will match the Christmas vibe.
5. Deck the room walls with leftover gifts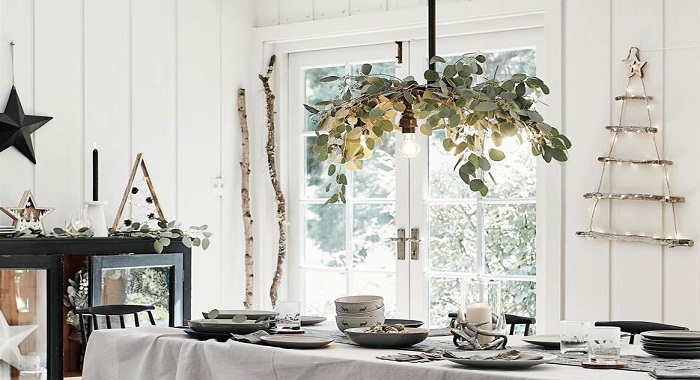 Christmas is all about exchanging gifts and greetings. When you have too many gifts and cannot find a proper place to keep them, then this is the time for you to go creative with the pile of gifts.
There is no need to keep too many gifts underneath the tree when you can decorate the bookshelf and turn it into a decorative gift-covered bookshelf. You only need to wrap the gifts with the matching wrapping paper that will ginger up the corner in a unique and creative way.
6. Bring flowers to the center table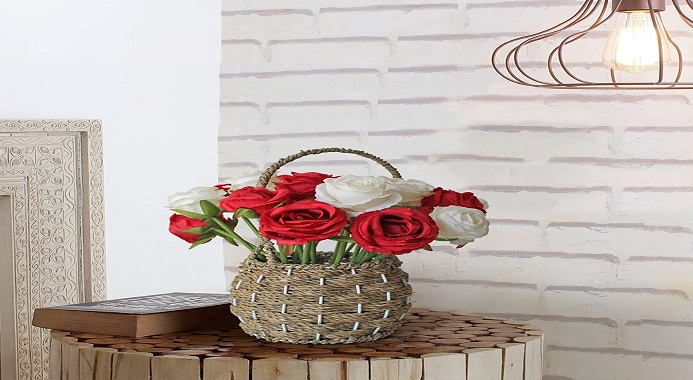 Whether it is about Christmas or Halloween, decorating your center table is the best idea to give the living room an aesthetic look. You must have stick flowers in the vase and arrange them for the decoration of the center table. But, this year, why don't you try to give your room a garden-inspired effect by bringing the natural flowers in use to ginger up the decoration a bit more. For this, you only need to mix plenty of green and white flowers and your Christmas flower arrangement is all set to ginger up your place.
7. Recreate your kitchen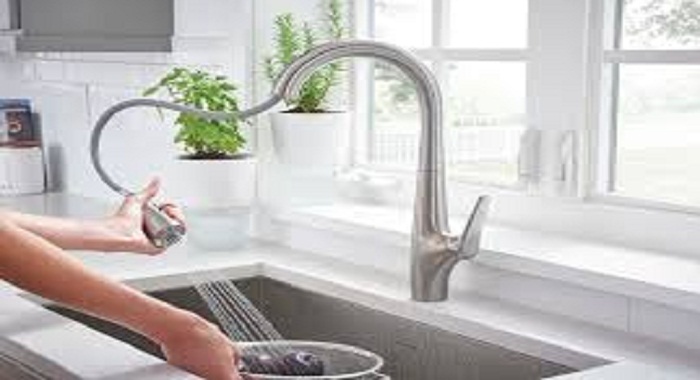 After decorating your bookshelf and the center table in the living room, this is the time for you to redecorate your kitchen as to how literally don't want to leave your kitchen old and messy. For this, you can give your kitchen a whole new look with the seasonal makeover i.e. Christmas themed decoration. For this, you can consider using the tabletop trees, customized wooden shelves and sign with some happy quotes, cute and decorative cups and coffee mugs, and also replace the calendars with the Santa themed ones that are having snowmen or snowflakes on them, giving the Christmas vibe in the whole place.
8. Make your bedroom festive ready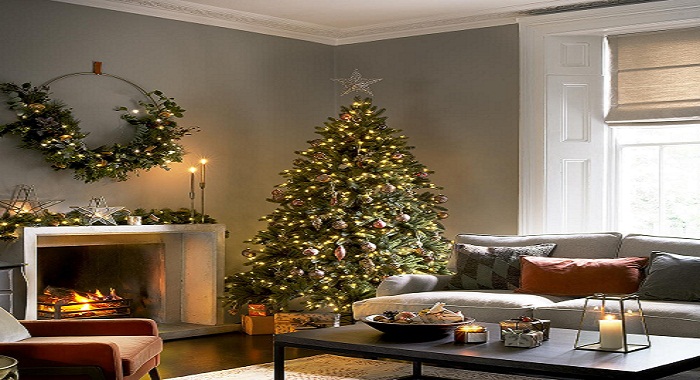 Your guests for the Christmas celebration might have seen these living room decorations several times, but what if you also include your bedroom in this race and make it party-ready? This will surely leave them all surprised and stunned when they will see your sleeping place all decked up and warmed on Christmas. For this, you can use different shades of blue and green to make your place more warmed up and cozy. Apart from this, you can also consider putting a mini tree on your tabletop or desk that is rainbow-colored and of perfect size that will add holly and jolly look to your bedroom for the holiday season.
9. Make it all gleaming and glowing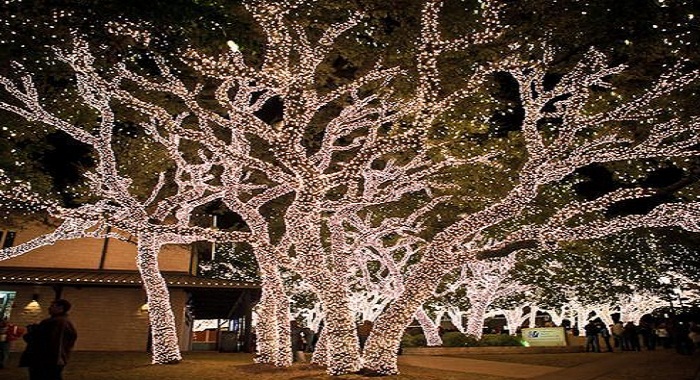 Well, you might have used various kinds of string lights to decorate the Christmas tree for the holiday season decoration. But, this time, why don't you try and use hand-crafted twinkle lights for creating an evergreen and glowing look. You can also use candles and lanterns for creating a cozier ambiance throughout the rooms like bedrooms, corridors, and kids rooms as well.
Well, after going through all these amazing and trendy Christmas home décor ideas, the only thing that makes sense is that there is no right or wrong way to decorate your house as it totally depends on the choice of the person as some want to do a lot for decorating their place as they are very much excited for Christmas as this is undoubtedly the last festival of 2020, and some are like doing very minimal so that they can have peaceful and a less crowded celebration. So, it is all up to you that how do you want to speak for this year's Christmas celebration! You can choose for the traditional decoration to bring back the memories of the last year or can choose to go with some new and the latest décor ideas to give a whole new look to your place, as after all its Christmas time.
Apart from decorating your place, the other things that you can do this year to create an extra magical Christmas for all your dear ones who cannot make it to visit you for the festival due to the pandemic, is to send some amazing and heartfelt Christmas gift items to your family and friends and make them feel more joyful and uplift their spirit. In this, Flowerdeliveryuae.ae will be there to help you in sending Christmas gifts online to UAE. This is one such widely recognized and considered gifting platform in the whole United Arab Emirates that is loaded with various gifting items perfect for almost every occasion, and Christmas is one of them. You can buy from here delicious cakes and can even get them personalized, green and beautiful plants, greeting cards, and other décor items to make the occasion more special and worth memorizing for the next couple of years.
Have a Merry and Happy Christmas all of You!!