In India, Holi is celebrated on the full moon day, Phalguna Purnima, with great enthusiasm and excitement. Throughout history, we have only known Holi as a festival of colors, and on this day, people greet each other by throwing colors. That is how the festival is celebrated all over India and across UAE as well. But, what if we told you that this only festival of colors could be celebrated in so many amazing ways? Yes, we are talking about Holi celebrations in Dubai and across the United Arab Emirates. You can discover a whole new way of celebrating this festival by traveling to different parts of the UAE.
So, will you be in Dubai this Holi 2022? Well, if yes, then you are undoubtedly at one of the best places to have ultimate fun at this colorful festival. It will feature sensational Bollywood DJs, singers, sets, brunches, and, of course, lots of colors. So, if you are planning to enjoy your Holi celebration in Dubai or anywhere in UAE, make sure to accompany yourself with some Holi gifts to Dubai for the party host to make them feel special.
When is Holi 2022 in Dubai?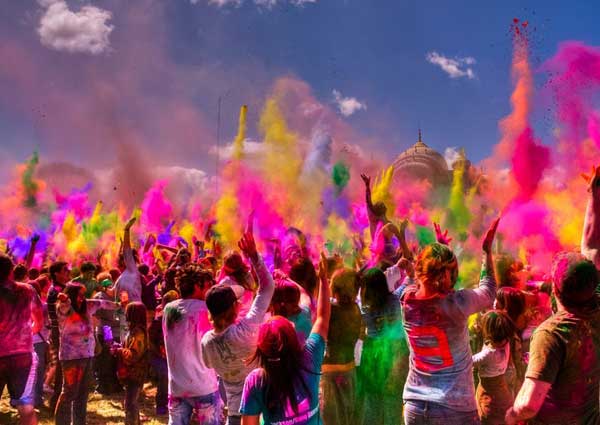 The best thing to know for celebrating Holi in Dubai, UAE, is the date, time, and auspicious muhurat of the Holi 2022 celebration in Dubai. So, let us have a look at the Holika Dahan Muhurta in UAE to known when is Holi 2022 in Dubai –
Holika Dahan – Thursday, March 17, 2022
Holika Dahan Muhurta – Mar 18 from 11:42 PM to 12:27 AM
Holika Dahan Duration – 00 Hours 46 Mins
Rangwali Holi – Friday, March 18, 2022
Bhadra Punchha – 07:36 PM to 08:46 PM
Bhadra Mukha – 08:46 PM to 10:43 PM
Holika Dahan – During Pradosh with Bhadra
Purnima Tithi Begins – 11:59 AM on Mar 17, 2022
Purnima Tithi Ends – 11:17 AM on Mar 18, 2022
Holi 2022 Parties In Dubai
In Hinduism, the festival of Holi, or Holi of Color, is celebrated during the spring season. In this year's festival, the dates to bear in mind are Thursday, March 17, and Friday, March 18. However, in conjunction with the festival, Dubai will host a number of events over the weekend. With sensational Bollywood singers and India's biggest DJs, one thing's for sure… no matter what you do to celebrate Holi, be ready for lots of colors, Holi 2022 events & parties in Dubai.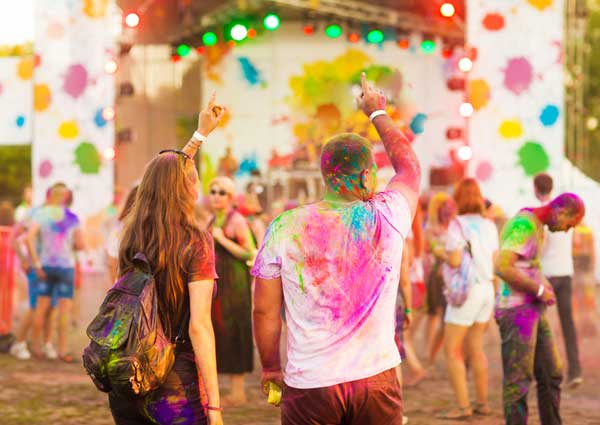 Holi in Dubai is a holiday filled with colors and a lot of fun. There is nothing more fun than throwing colors and water balloons at each other while dancing to Bollywood tunes. In Dubai, Holi 2022 will be filled with a variety of exciting events, including rain dancing and beach parties. Currently, eco-friendly is the rage; Holi with organic colors and no water is the whole idea. In Dubai, there have already been several Holi parties that have started using only organic colors and no water, and they are just as fun as you imagined. Aside from the Holi parties, other fun Holi events, such as the Dubai color run. This is a running race, but it involves colors, and that's what makes it exciting. Keep the festive vibes alive by checking out all the fun Holi 2022 events in Dubai.
Here are 6 places for you to celebrate the Holi festival in Dubai. So, let us have a look at the list –
JA The Resort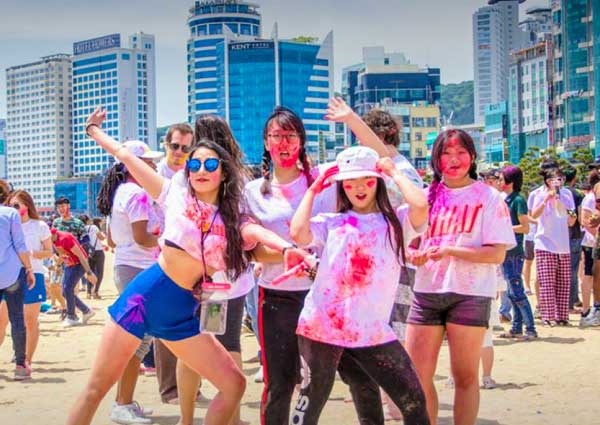 On March 18, 2022, head on over to JA The Resort for Holi on the beach while listening to groovy Bollywood beats. Bollywood DJs from Dubai's top companies will be spinning out foot-stomping music as you tuck into tasty food and more, starting at 10 am and lasting until 10 pm.
Address: Clorox Holi Beach Party, JA The Resort, Dubai
Timing: 10am to 10pm
Date: Fri Mar 13
Ticket: Dhs 120 per person, Dhs 175 per couple, Dhs 200 group of four
Tel: (058) 1781230
JA Lake View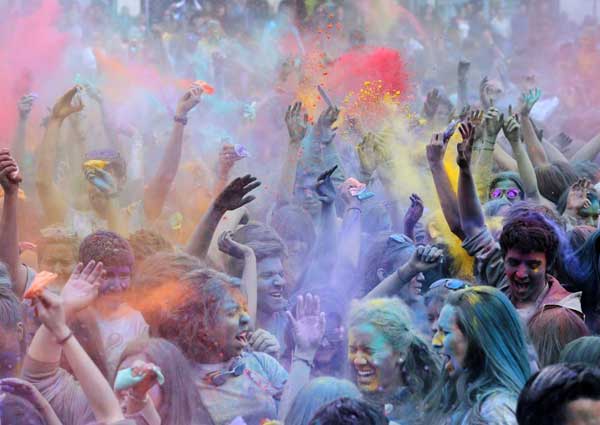 If you intend to satisfy your Holi appetite with an exquisite menu of traditional and modern dishes, head on over to Kinara by Vikas Khanna at JA Lake View on Friday, March 18. Here, you can tuck into a variety of mouth-watering dishes for just Dhs220 per person, replacing the colorful powder with a vibrant set menu. In addition to dahi vada (lentil dumplings with yogurt and tamarind glaze), paneer kurchan (cottage cheese with roasted tomato and bell pepper), and more, non-vegetarians can also tuck into items like fish fingers and murgh ka salan (chicken stew with potato crisps). The restaurant's à la carte menu will also be available, which will include many of Vikas Khanna's classic dishes.
Address: JA Lake View, Exit 13, Jebel Ali, Dubai
Timing: Mar 9 to 10
Ticket: Dhs 220 per person for set-menu
Tel: (04) 814 5604
Al Mamzar Beach Park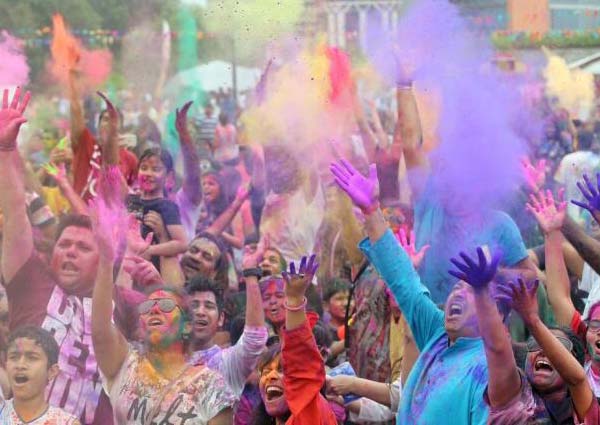 There will be two Holi events at Al Mamzar Beach Park, on Friday, March 18, 2022. A kids' play area, DJs, color splashes, and plenty of food stalls will be offered at the beach venue.
Address: Holi Color Bash, Al Mamzar Beach Park, Dubai
Timing: 10 am onwards
Date: Fri Mar 6 and Fri Mar 13
Ticket: Dhs 20 general admission, Dhs 60 VIP
Tel: (055) 846 5959
Dukes The Palm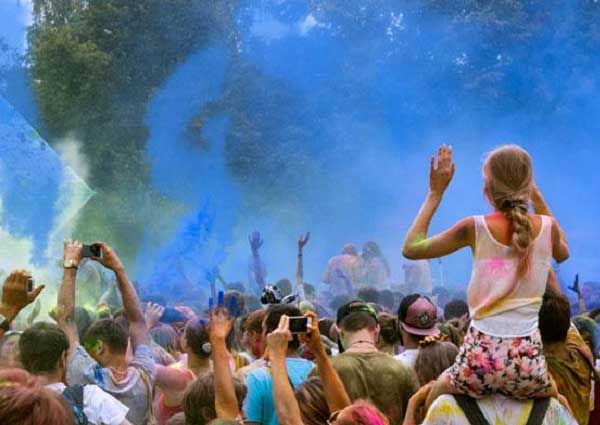 This colorful festival will celebrate Holi at Dukes Beach with a wide variety of celebrations. You can hear all the hottest Desi and chart-topping tracks at the Color Bash, and Nora Fatehi will also perform. There is a kids' play area as well as a beachside where you can smear colorful powder on one another. Food stalls are available on location for refreshments. Are you craving a bigger meal? Khyber offers a family-style three-course dinner at an affordable rate. Among the vegetarian and non-vegetarian options on the menu are the tender Dhaniya Murgh and the Bharwan Tandoori Aloo.
Address: Dukes The Palm, Palm Jumeirah, Dubai
Timing: 6pm to 11pm
Date: Sun March 8 to Wed March 11
Ticket: Dhs 75 per person for Color Bash, Dhs 160 for the three-course set menu at Khyber
Tel: (04) 455 1101
Ramada Hotel & Suites Dubai JBR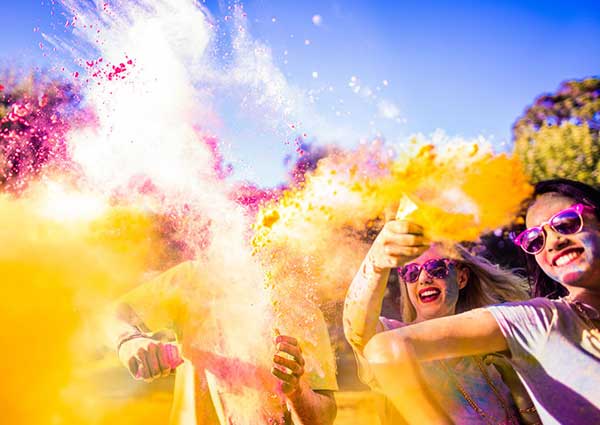 The Colour Carnival Brunch at Flavours Gardens will take place on Friday, March 18, and will feature an array of South Asian and international cuisine. So you won't miss out on the exciting action, it will be held in conjunction with a powder throwing event. There will also be live entertainment and other activities. Those aged six to twelve can get a 50 percent discount on the price of Dhs159 per person.
Address: Flavours Gardens, Ramada Hotel & Suites Dubai JBR, Dubai
Timing: 1pm to 4pm
Date: Fri Mar 6
Tel: (04) 399 9979
Zabeel Park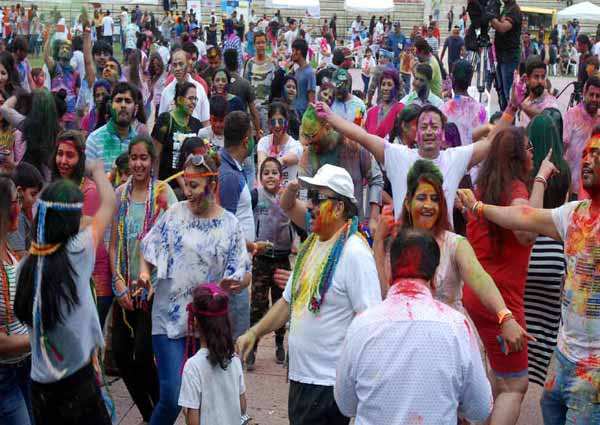 Zabeel Park will once again celebrate Holi this year from 10 am to 12 pm on Friday, March 18. The festival will have not only a great deal of color but also a DJ, a live band, numerous food stalls, and a little play area for the kids. A fan pit ticket costs Dhs30 per person, while an enclosure ticket costs Dhs60 per person. A coloring kit will be available.
Address: Holi Hai, Zabeel Park, Dubai
Timing: 10am to 10pm
Date: Fri Mar 13
Ticket: Dhs 30 fan pit, Dhs 60 enclosure, under 3s enter free
Tel: (050) 654 9100
Events in Dubai
In addition to being called the 'festival of colors,' Holi signifies the triumph of good over evil and the end of winter. In addition to food, music, dance, and many colors, this festival is usually filled with fun and excitement. Therefore, mark your calendars for 18th-20th March 2022! The festival of Holi is celebrated in Dubai with zeal and enthusiasm. We are finally able to come together after two years of social distance, quarantines, and vaccinations. Holi is coming up in Dubai, and there are many places you can visit to enjoy it! So, if you are confused about where to celebrate Holi in UAE, make sure to check the list we have curated here –
Rang Barse 2022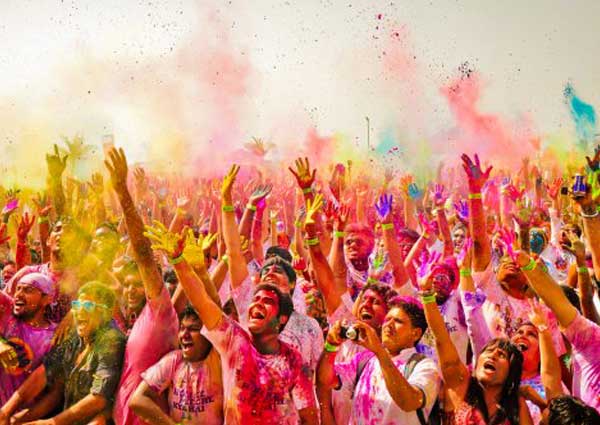 The Danube Group in Dubai is organizing this Holi event. There will be live bands as well as one of the most impressive DJ lineups in Dubai, as well as Punjabi dhol, jugalbandi, Bollywood dance workouts, and a gold coin raffle.
Do not wait until the event is sold out to purchase your ticket.
Ticket: Starting from AED 25
Date: 20th March 2022
Timings: 10:00 am onwards
Location: Creek Park
Contact: +971-56-868-0777
Holi Hai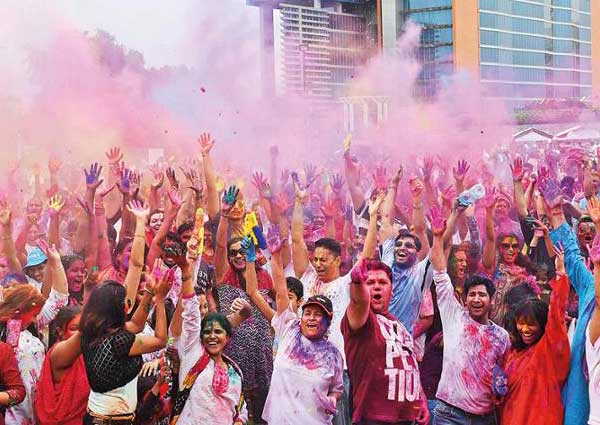 A Holi festival in Dubai is filled with color, music, dance, and delectable foods. This event taking place at Zabeel Park will offer all of that and much more. It promises to be a fun and festive day for the entire family.
Ticket: Starting from AED 30
Date: 20th March 2022
Timings: 10:00 am onwards
Location: Zabeel Park, Zabeel Area
Contact: +971-50-654-9100
Color Fest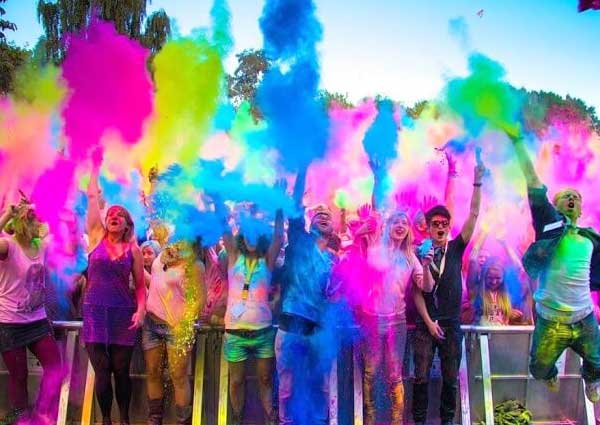 This is a treat for fans of the multi-talented artist Harrdy Sandhu. Color Fest will be graced by the presence of the actor and singer. Live entertainment, traditional cuisine, and other activities will be offered at Color Fest.
Date: 19th March 2022
Timings: 11:00 am to 06:00 pm
Location: Souk Al Marfa
Color Festival 2022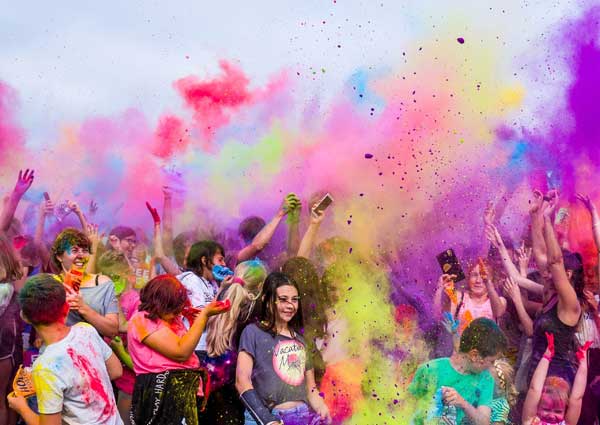 What do you think of 15 hours of non-stop partying? Desi and Commercial music will be played from 12:00 pm to 7:00 pm by DJ Karan, DJ Chirag, DJ Bharat, and DJ Panache. DJ G2, DJ Aayush, DJ R5AI, and DJ SIDD will spin EDM and Techno during the late evening hours.
Aside from the hotel's pool, kids' lounge, and Bhangra and Dhol sessions, you can enjoy the hotel's Bhangra and Dhol performances. There is also alcohol and shisha to be enjoyed at the venue. Color Festival 2022 stands out as one of the Holi events in Dubai 2022.
Ticket: AED 100
Date: 19th March 2022
Timings: 12:00 pm to 03:00 am
Location: Avani Ibn Battuta Dubai Hotel
Contact: +971-50-855-3272
Claypot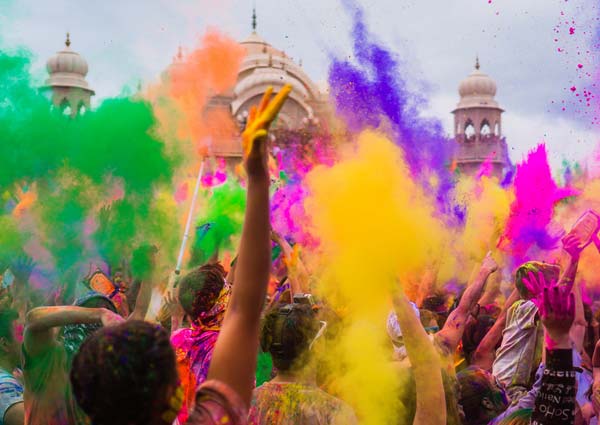 The Claypot Indian restaurant in Dubai is the best place to celebrate Holi. It is also possible to purchase the buffet plus drinks at a special price. Here's an offer you shouldn't miss out on if you're planning to celebrate the festival with your family and friends:
Cost: Dinner Buffet at AED 59
Dates: From 18th to 20th March 2022
Timings: 07:00 pm to 11:30 pm
Location: Kuwait Street, Al Mankhool, Dubai
Contact: +971-50-100-7065
The Final Verdict
So, make sure to visit these places in Dubai and enjoy these fun-filled and entertaining events dedicated to Holi 2022 to have unlimited fun. Additionally, you can not ignore the need for Holi gift hampers to Dubai if you will be attending any special Holi party. And, for this, you can explore the range of Holi gifts from Flowerdeliveryuae.ae.