International Women's Day 2020: A day to celebrate the presence of the women on the earth and in our lives. The day falling annually on 8th March is the perfect occasion to admire, respect, and honor the wonder women who has successfully transformed our lives right from the childhood, sometimes in the form of a mother who is the first teacher for everyone, sometimes in the form of a sister who covers every mistake, as a girlfriend or wife with whom you can share everything without thinking twice, and sometimes as a friend who is always there as a strong shoulder to support you in every thick and thin. To cherish every woman on 8th March 2020, Women's Day gifts are something that will get the job done amazingly. On our site, you will also find "9 Impeccable Gifts Ideas for Nostalgic Distant Loved Ones in UAE" so that you can send the best gifts for the ones who are living far away from you.
"Feminism isn't about making women strong. Women are already strong. It's about changing the way the world perceives that strength." – G.D. Anderson
Women are the base of life who has the power to create, nurture, and transform society. Something very expensive and showy is not the one that is going to adorn the occasion, but the one that can represent the sweet gesture of yours will turn out to be the best gift for 8th March. Well, talking about Happy Women's Day gifts, there are a plethora of options available in the market and on the online stores as well, but when the search is for the best gifts for women, then a gift loaded and filled with love, care, and respect is the one that will be a cut over others, for sure.
So, we at Flowerdeliveryuae.ae is offering our customers with the best Women's Day gifts in Dubai and in the whole UAE so that everyone can make special females in life feel more special. Check the Women's Day gift guide given below and hands-on the best items for the occasion.
Women's Day Gift Guide 2020: Get the best gifting solutions for the special ladies in your life from the category given below:
"OF COURSE WOMEN DO NOT WORK AS HARD AS MEN. THEY GET IT RIGHT THE FIRST TIME"― Nitya Prakash
Empower such amazing and wonderful women in your life with a token of love that admires every effort of her from the list of Women's Day gift ideas given below. So, without wasting any time, let us get started:
Flowers for Women's Day
Flowers are the ones that compliment the beauty and the delicacy of women to the best. That is why; Mimosa flower is considered aa an official symbol of International Women's Day. This has made flowers one of the popular Gifts for Women's Day. So, we have listed the top 5 flowers that can be given to the special ladies of life including sister, mother, wife, girlfriend, and friends.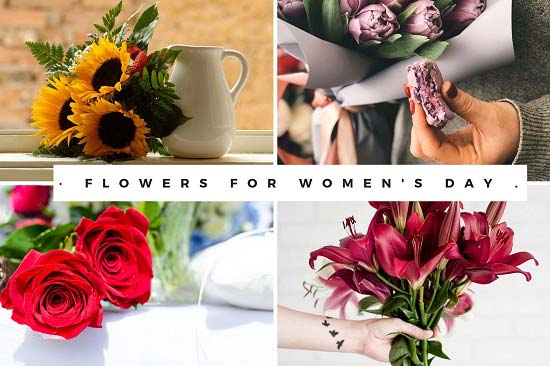 Roses: Known as the symbol of love; pink, yellow, and other vibrant color roses can be considered as one of the best gifts on Women's Day undoubtedly.
Tulips: Again, with a wide range of colors, Tulips are also the ones that can be chosen as the Women's Day gift for her. With this, Tulips are also one of the most popular flowers given on Women's Day.
Lilies: Representing the passion and beauty of motherhood and womanhood, Lilies, being the ideal gifts on Women's Day, are surely going to gear up the occasion.
Sunflowers: With faith and adoration, a Sunflower bouquet will surely make every special lady in your life feel special with its vibrancy, beauty, and simplicity.
Carnations: At last but not at least at all, colorful carnations will make Women's Day special for her, especially for your mother as this flower is dedicated to mothers and is indeed the best Women's Day gift for mom.
Women's Day Cakes
Relish the delightful treat to this amazing occasion ordering a delicious and special cake for the Women's Day celebration as cakes are one of the options in the list of National Women's Day gifts. The best 5 cake types are listed below: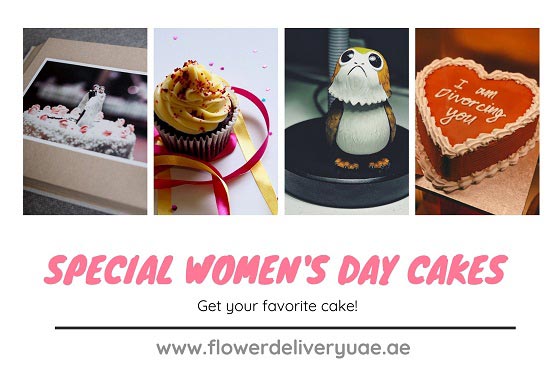 Heart-Shaped Cake: Pour your heart to your special females with a delicious heart-shaped cake.
Photo Cake: Celebrate the special achievements of her with a special personalized photo cake.
Designer Cake: Want to get her a special type of cake? This can be done perfectly with a designer cake.
Cartoon Cake: Searching for the best Women's Day gifts for your daughter? Cartoon cakes are the ones that will cherish her childhood once again.
Cupcakes: Small, beautiful, cute, and adorable cupcakes are surely the best gift ideas for women if you are searching for gift options to give as Women's Day gifts for colleagues or employees.
Chocolates for Women's Day
Searching for best Women's Day gift ideas? Let the deliciousness of chocolates make the job easier for you. Ditch the common chocolates available in the market and choose chocolates special gifts that will make the occasion more special. The 5 topmost ideas are listed below: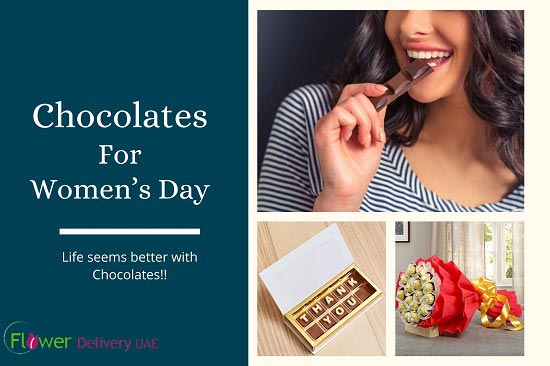 Chocolate Bouquet: Keep aside flowers and get a chocolate loaded bouquet to your chocolate lover.
DIY Chocolates: Impress her with your efforts with DIY chocolates and make her feel special.
Assorted Chocolates: If confused which chocolate be the best, then choose the assorted ones as they are ultimate love.
Chocolate Basket: Just decorate a basket with varieties of chocolates and you can easily send this Women's day gifts online in the United Arab Emirates.
Chocolates with Text: Want to make chocolates more special? Get them personalized with some special text.
 "A girl should be two things: Who and what she wants." – Coco Chanel
Personalized Women's Day Gifts
Looking for the perfect Women's Day gift ideas? There could be no better option other than personalized gifts for Women's Day. The best 5 options are listed below: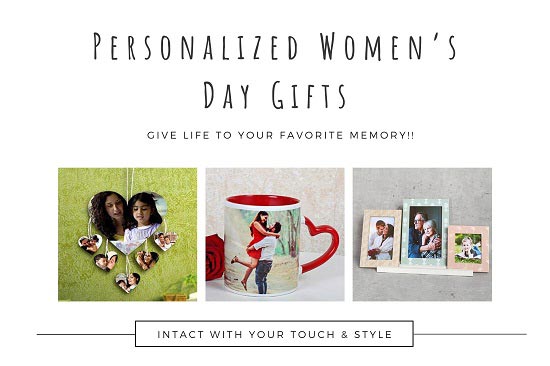 Mugs: Make every morning of your lady love more special by gifting her a personalized mug.
Cushions: make every night of your favorite lady amazing and worth cherishing by getting her a cute and comfy personalized cushion.
Wall Hangings: In the aisles of decor items, something quirky and unique that fits in the house perfectly is one of the best Women's Day gift ideas.
Photo Frames: Gift your sweetheart her favorite memory on this occasion with a personalized photo frame.
Personalized Cakes: A cake decorated with an adorable photo is the one that is a cut above many options in the queue of gifts for Womens Day.
Apart from the above-mentioned gifts, you can also check out our "10 Unique Personalized Gift Ideas to Create Memorable Occasions" from which you can get many more gifting options in this category.
Accessories for Women's Day
Among the best ideas for Women's Day gifts, something that she can use and flaunt with is the one that is surely going to make her feel special. In the aisle of gifts for Her in Dubai, accessories are the ultimate option to choose from. Check out the list given below: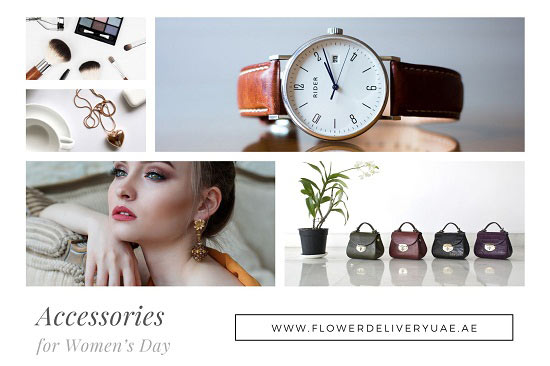 Pendant Necklace: From the Boho ones to the Old retro style ones, there is a huge aisle of neckpieces that your lady must be having. So, get her something unique with a pendant, this year.
Watches: Watches are the ultimate style statement that can stylize every outfit. So, get the special lady in your life the latest one.
Earrings: Talking about jewelry items, there is no chance that earrings can lag behind as women have a special place dedicated to them in their wardrobe and in the heart as well.
Bags: Women can never get satisfied with the bag collection they have. So, get her a new one this year on 8th March 2020.
Make-up Kit: Women and make-up go hand in hand and that makes this option one of the best Women's Day gifts 2020.
Women's Day Apparels
Talking about International Women's Day gifts ideas 2020, how can anyone forget about the love of ladies for the attires? That is why; here are the top 5 clothing items that you can send in Dubai as a gift for Women's Day.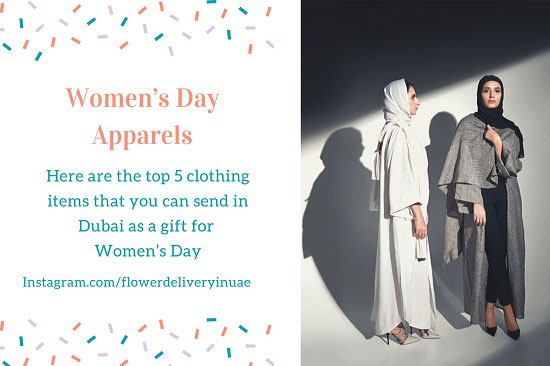 Abaya: Available in many amazing colors, Abaya is one of the most famous dresses in Dubai and can be given on the occasion of Women's Day as well.
Kaftans: In the same aisle, after Abaya, Kaftans are the ones that will also be the best gifting options for women.
Suits: Women love wearing suits and so, why not to gift her something in which she can carry herself flawlessly.
Slang Printed Hoodies: Apart from traditional Women's Day gifts, get her something unique and funky as printed hoodies.
Slogan T-shirts: You can also get her customized slogan t-shirts as they are in the trend nowadays.
Greeting Cards for Women's Day
On the occasion of Women's Day 2020, fuse the life of your sister, friends, colleagues, wife, and girlfriend with some words of motivation and wisdom by sending Women's Day greeting cards to her. The types of cards one can choose as the gifts for womens day are: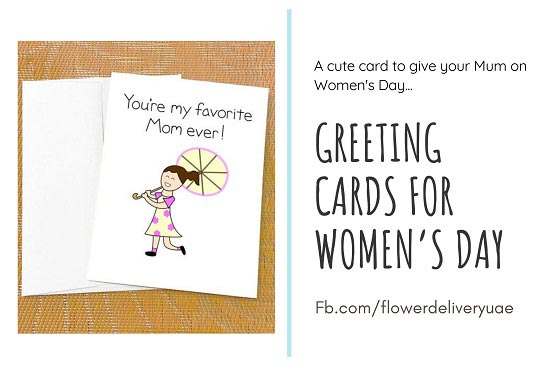 Cards with Slogans: A card gingered up with a motivational slogan will surely help to empower women.
Cards with Motivational Quotes: You can also choose a card topped with a motivational quote from the renowned writer or poet to send to your dearest females in the UAE.
Customized Greeting Cards: Want to make this simple gift a little unique? Get customized or photo cards as they will also be the best gift ideas for women.
Designer Cards: Nowadays, there are a plethora of designs available that looks amazing and classy. You can choose one from that aisle as well.
Message Cards: So, if you want to send any special message to someone, then message cards is the one that is your kinda gift.
Plants for Women's Day
Searching for some unique Women's Day gifting ideas? Get the job done amazingly with the uniqueness of plants. The top 5 plants in Dubai that can be considered are listed below: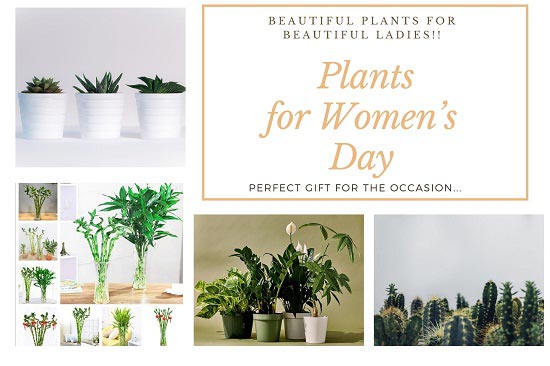 Lucky Plants: Gift the lucky charm to the special women in life that will bring peace and prosperity in their life with lucky plants.
Flowering Plants: If she is in love with flowers, don't just get her a bouquet, but instead, get her a flowering plant that will surprise her daily with a beautiful flower.
Succulents: Succulent plants are the ones that make amazing gifting for someone who loves to have greenery around in a quirky way as they look super amazing.
Dish Gardens: For the ones who love decorating their homes with something catchy and lively, dish gardens are the ones that will make an amazing option to go with.
Cactus: To wish women long life in a thoughtful way, go with ultra special and unique cactus.
Women's Day Gift Hampers
Hampers and combos are indeed the unique way to present the gift to the special females of your life as you can combine many special gifts in one combo and can impress her with your thoughtfulness. Here, we have listed 5 top thoughtful Women's Day gift suggestions for you.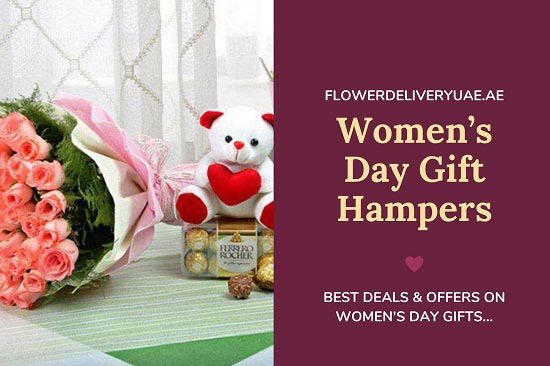 Flowers with Chocolates: Chocolates are girl's ultimate favorite and this is why; the combo of beautiful flowers with chocolates always works.
Personalized Mug & Cushion Combo: As mentioned above, personalized gifts make the best gifting option for this special occasion and in this aisle, photo mug and cushions are one of the most popular ones.
Flowers with Cakes: Combine the deliciousness of cakes with the elegance of flowers and you got your perfect Women's Day gift.
Cosmetics & Spa Hampers:
Flowers with Soft Toys: Looking for Women's Day gifts for sister? This combo is the best one to go with. It will also work well for your loving daughter.
DIY/ Handmade Women's Day Gifts
Still confused and looking for the Women's Day special gift suggestions, then there could be no better option other than handmade gifts for women. Just take some time out from your busy schedule and prepare a gift that has your love, care, and a little bit of your efforts. Well, we have given you 5 best and cheap Women's Day gifts designed by your own. Check the list given below: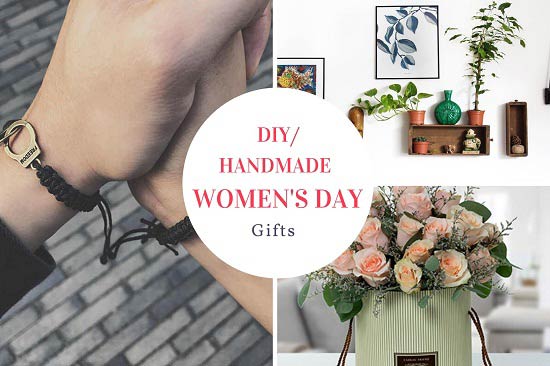 Flower Basket Arrangement: Flowers can never go out of the trend in impressing your favorite lady. So, decorate a basket with the favorite flowers of her and your gift is all set to rock.
Photo Collage: Redefining the old memories of life is indeed one of the great Women's Day gift ideas, and hence, preparing a photo collage in the one that is simple yet the best of all.
Handmade Bracelets: Pick some beads, stones, and glitter and prepare a bracelet for your girlfriend, sister, daughter, or wife and they are going to love your gift for sure.
Cakes and Cookies: Love baking? All done as on this Women's Day, you are going to bake some delicious cookies and cake for the special ladies.
Decor Items: Throwing a party in the honor of the wonderful women in your life? Bang the celebration by decorating the venue with the handmade decor items like posters, hangings, etc.
The list of gifts for Women's Day 2020 given above must have given you a plethora of Women's Day gift ideas to choose from to please her on the occasion coming soon. With this guide, you can also check out our write-up "6 Magnificent Gifts for Female Friend for Special Occasion!!" for more amazing gifting ideas. Now, if you are thinking of where to buy these gift items, then need not worry as every item is available on our site at affordable rates with the quality intact. With this, Flowerdeliveryuae.ae is also offering its customers with fast and reliable express delivery for Womens Day gifts in the Emirates like Dubai, Al Ain, Sharjah, Abu Dhabi, and all across UAE so that everyone can express their emotions with the best and special gift for Women's Day. So, explore the site and get your hands on the best items and make 8th March very special for your dearest mother, wife, daughter, or girlfriend.
There could be no better way to end the write-up other than these amazing words by "Ehsan Sehgal" that has explained the meaning of International Women's Day in its true respect:
"The International Women's Day means a day of the ceremonial of all 365 days, which only women own and influence since that leaves nothing, for the men."